Article Last Updated June 2021
Labels can be added anywhere in your eClass course and are commonly used as headers to organize content, callouts drawing attention to specific areas, etc. Labels can consist of simple text, horizontal bars, images, videos or even more complex HTML code. Anything that you want to display on the main page of your course can be done with a label. The added benefit of using labels is that once added, they can be moved around your course home page however you need.
Adding a Label
Click on

Turn editing on

, near top right side.

Move to the topic area where you wish to add content (the week, unit, etc.) and click on the

Add an Activity or Resource

button.

Click on the Label icon.

A new page will appear with the label settings.
General
"Label Text": This is where you enter the text for your label.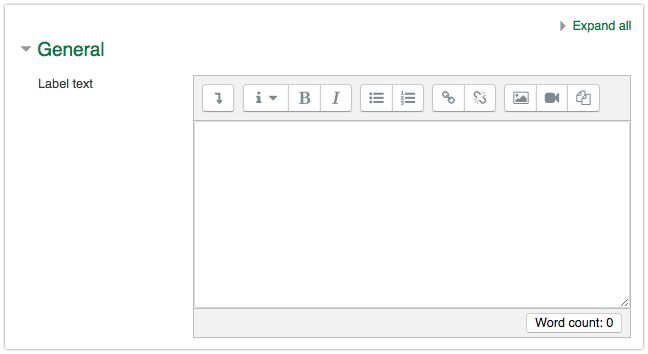 Common module settings
"Availability": This setting has 3 options:

'Show on course page' - The activity is available to students (subject to any access restrictions which may be set).

'Hide from students' - The activity is only available to users with permission to view hidden activities (by default, users with the role of teacher or non-editing teacher).

'Make available but now shown on course page' - A link to the activity must be provided from elsewhere, such as from a page resource. The activity would still be listed in the gradebook and other reports.

Restrict access
Tags
See

this article. Note that at present, tagging questions offers no functional utility - this will be introduced in a future version of eClass.

---