Last modified on 29 November 2022 11:44 AM
Chats enable real-time conversations between instructors and students in a text-based environment similar to most instant messaging platforms but in a simpler fashion. The tool is a great, easy way to communicate with students at-a-distance.
Adding a Chat
Click on

Turn editing on

, near the top right corner.

Move to the topic area where you wish to add content (the week, unit, etc…) and click on the

Add an Activity or Resource

button

.

Click on the Chat icon.

A new page will appear with the chat settings.
General
"Name of this chat room" is required. Make this as meaningful as possible for your students.

"Description" is optional. You may provide an explanation or instructions here for your students.

"Display description on course page" - Toggles whether or not the description of the chat room will be displayed on the course page below the link to the chat.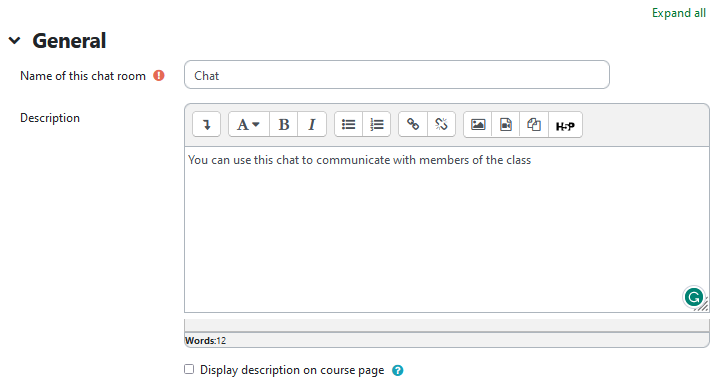 Chat sessions
"Next chat time" - Displays the day and hour the next chat session will be hosted. This allows students to see when you will be hosting the next chat session in their calendar but does not stop students from accessing the chat at any time before or after this time.

"Repeat/publish session times" - Allows you to change when chat times will be available for students. You can change this so that there is only one chat session scheduled (good for small classroom discussions), or it is repeated at the same time each day or each week (good for hosting virtual office hours).

"Save past sessions" - Allows you to change the length of time for which the chat sessions are stored.

"Everyone can view past sessions" - If set to no, only users with special privileges will be able to see past chat sessions.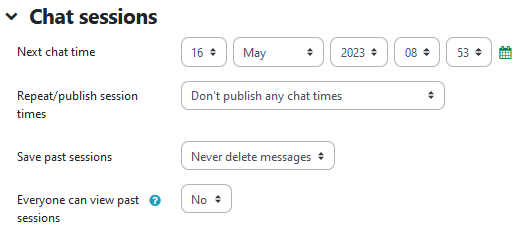 Common module settings
"Availability" - This setting has 3 options:

'Show on course page' - The activity is available to students (subject to any access restrictions which may be set).

'Hide from students' - The activity is only available to users with permission to view hidden activities (by default, users with the role of teacher or non-editing teacher).

'Make available but now shown on course page' - A link to the activity must be provided from elsewhere, such as from a page resource. The activity would still be listed in the gradebook and other reports.

"ID number" - An ID number identifies the activity for grade calculation purposes.

"Group mode" - The group mode defined at course level is the default mode for all activities within the course. Each activity that supports groups can also define its own group mode, though if the group mode is forced at course level, the group mode setting for each activity is ignored. This setting has 3 options:

'No groups' - Students are not segregated into groups.

'Separate groups' - Only group members can see their own group while other groups remain invisible.

'Visible groups' - Group members can see other groups but still work in their own group.

"Grouping" - A grouping is a collection of groups within a course. If a grouping is selected, students assigned to groups within the grouping will be able to work together.

"Add group/grouping access restriction" - Allows access only to students who belong to a specified group, or all groups.
Restrict access
Activity completion
"Completion tracking" - Activity completion is tracked, either manually or automatically, based on certain conditions. Multiple conditions may be set if desired. If so, the activity will only be considered complete when ALL conditions are met. A tick next to the activity name on the course page indicates when the activity is complete.

"Require view"

Student must view this activity to complete it - A tick will only appear once the student views the activity.

"Expect completed on" - This setting specifies the date when the activity is expected to be completed. The date is not shown to students and is only displayed in the activity completion report.

Tags
Notes
If you set up your chat so that you and/or others can see the transcripts of what is written in the room, please make sure that is made clear to students for ethical reasons.
---
-->