Knowledgebase
ePortfolio New Features August 2019
The ePortfolio service was upgraded August 23rd 2019 to the latest application version and new infrastructure. Please note some the service documentation may contain screenshots from the previous version - these will be updated as time permits in Fall 2019. The highlights of the changes introduced in this upgrade are listed below.
Navigation menu changes:
The navigation dropdown menu items have been reorganized to reflect the Create, Share, Engage theme from the dashboard:

Access to user's portfolio pages and collections are now grouped under Create along with links to the tools for static content element creation: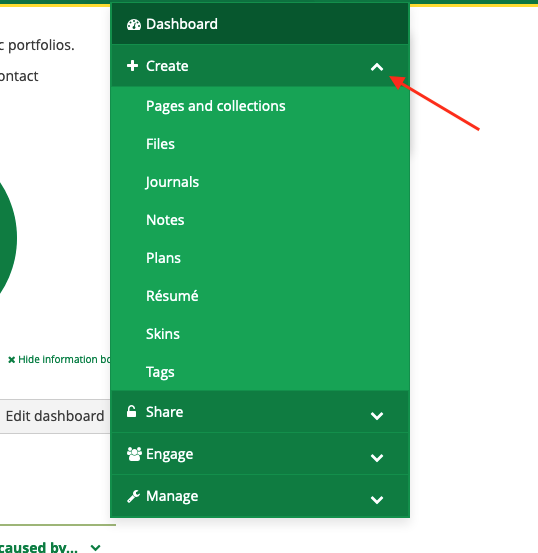 Details about pages or collections that have been shared with you or pages that you are sharing with instructors of peers are grouped under Share: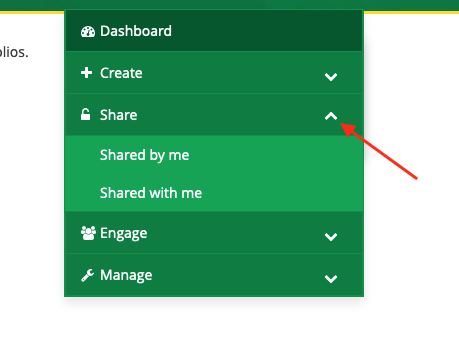 Searching for colleagues portfolio's or course groups to join appear under Engage: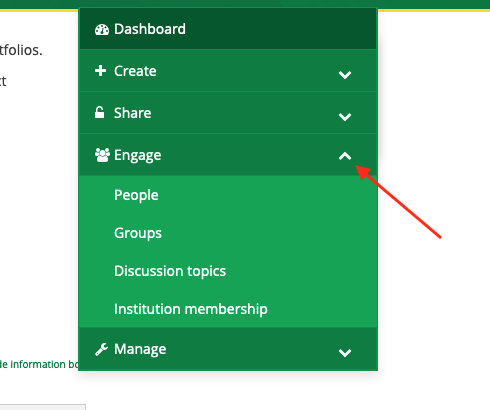 Page header display changes:
Page headers have been cleaned up to improve the look and feel and new floating action icons have been added to the top right of each page: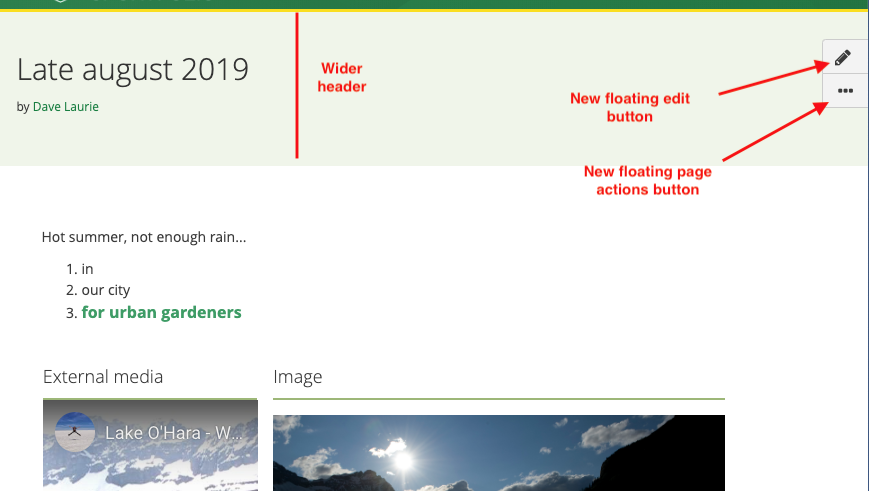 Timeline view:
Students now have a quick method to save a version of a portfolio page or collection to look back on it over time. To copy a version of a page to the timeline, click on Save to timeline under the floating page actions button near the top right: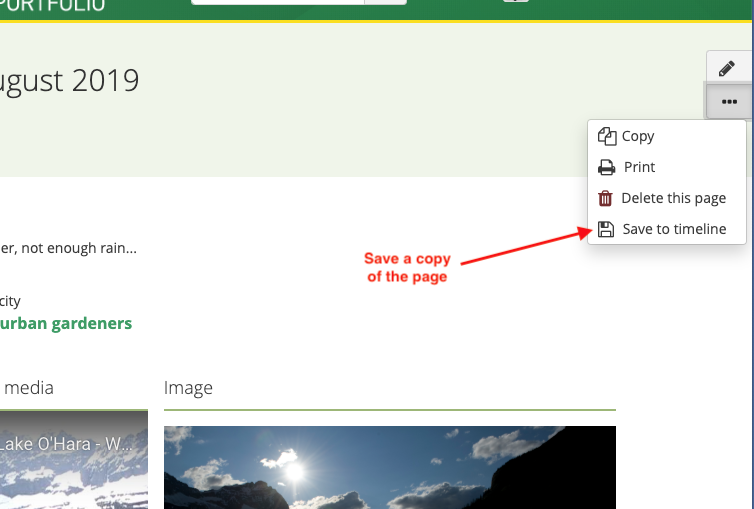 Once versions of pages have been saved, they can be viewed by clicking Timeline: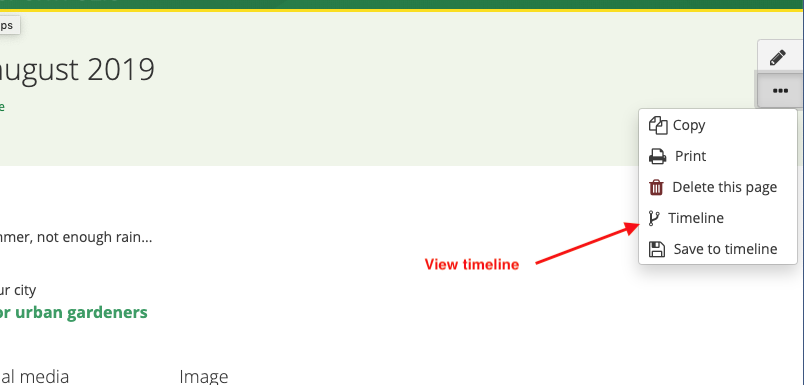 Portfolio template sharing improvements:
Many instructors and programs require that students complete portfolios based on a template - for example a collection of pages where students demonstrate evidence for completing a competency on each page. Previously the process for getting each student a copy of a template collection was cumbersome.
With the latest upgrade, instructors can easily copy any page or collection that belongs to the group to every member of the group. To do this, once a collection has been copied or built in a group, the advanced options under the group share tab give instructors an option to copy the collection to all members of a group: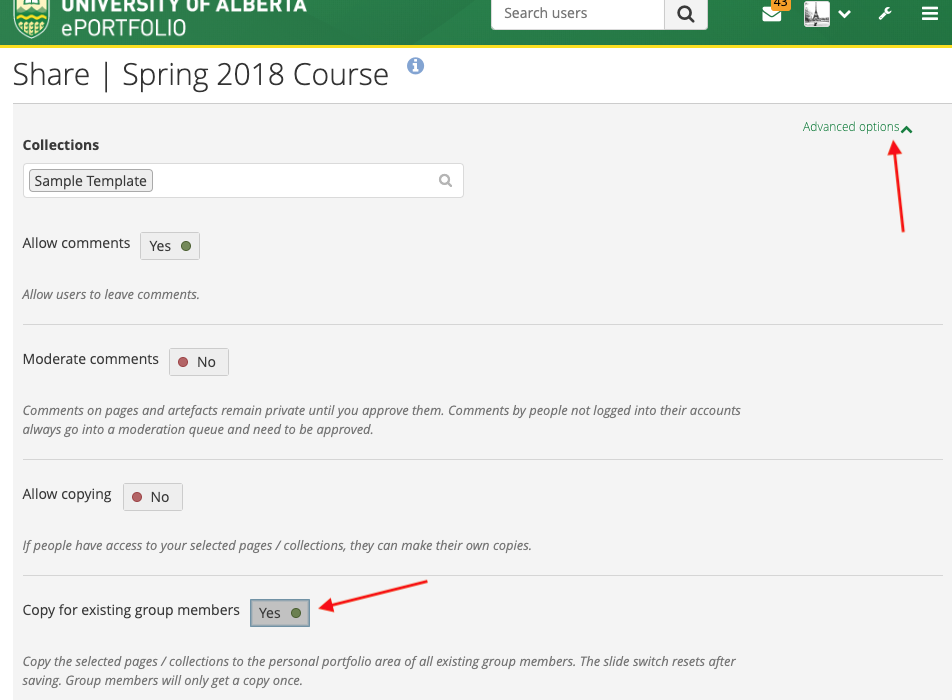 Within pages and collections themselves, there is now an option to lock pages or blocks within pages to protect them from inadvertent deletions or changes by students. Template pages can now also have explicit instructions added within the page settings instead of needing to be added as actual content displayed on the pages themselves: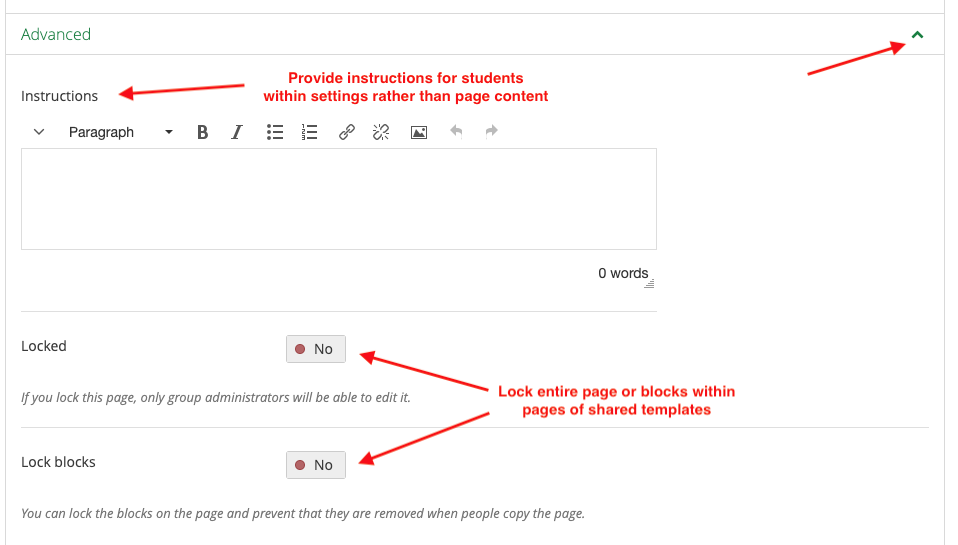 ---