Smart Exam Monitor (SEM) - For Instructors
Article Last Updated June 2021
Instructors can use Smart Exam Monitor (SEM) to remotely proctor exams and quizzes. The system can be used in conjunction with eClass quizzes or as a pure monitoring solution for a range of other assessments. SEM is a 3rd party external tool that is deployed inside the eClass hosting environment and is approved by Security and Privacy. The tool uses a student's computer webcam and microphone to confirm their identity and monitors both their computer screen as well as their physical environment during a remote assessment.
Instructors considering using SEM should consult the guidelines for delivering remote exams to determine whether this option works for their assessment and requirements. It is important to note that the tool is focused on monitoring and automatic flagging rather than on locking or controlling devices (SEM can be paired with ExamLock if that is a requirement.) For a full list of the specific features and limitations of SEM, instructors should email eclass@ualberta.ca.

Requirements for SEM
Desktop or laptop computer (for both instructors and students)

Chromebooks are supported, but iPads and tablets are not.

Chrome Browser (SEM only works using the Chrome browser)

Note: the SEM tool does not function reliably at the same time as the LabConnect software so instructors should not try to deliver synchronous exams using that set up.
It is strongly recommended that a small practice quiz be set up and made available prior to any real exams. The practice quiz should be open for several days and allow students multiple attempts and whenever possible this quiz should be for low stakes to encourage student participation. This eClass practice quiz should allow "Unlimited" attempts and have no start/end date on it. Once a SEM practice session is toggled 'Open to students', they can take the quiz whenever they want (the SEM session 'Duration' setting is the maximum duration that individual students can be proctored once they start their attempt.) As long as students do not click 'Finish Exam' on their SEM session, they can re-use the same one; for any students who click 'Finish Exam' instructors will need to duplicate sessions and link them to the same eClass quiz.)
Instructors should also set clear expectations with students that providing the monitoring evidence is a requirement of exam submission and that students are responsible for ensuring that everything is functioning correctly.
Instructors should point their students at our setup guide here to prepare them to take their practice quizzes and any students having issues with SEM setup should contact the IST eClass support team at eclass@ualberta.ca
An overview of the process described below is also available as a recording of the webinar: Setting Up SEM for base eClass Exams.
Instructors can add the SEM tool to their eClass courses by clicking on it in the Activity Chooser:
Instructors can also add an 'External tool' from the activity chooser (this process is outlined here) and select Smart Exam Monitor from the 'Preconfigured tool' dropdown within the external tool settings: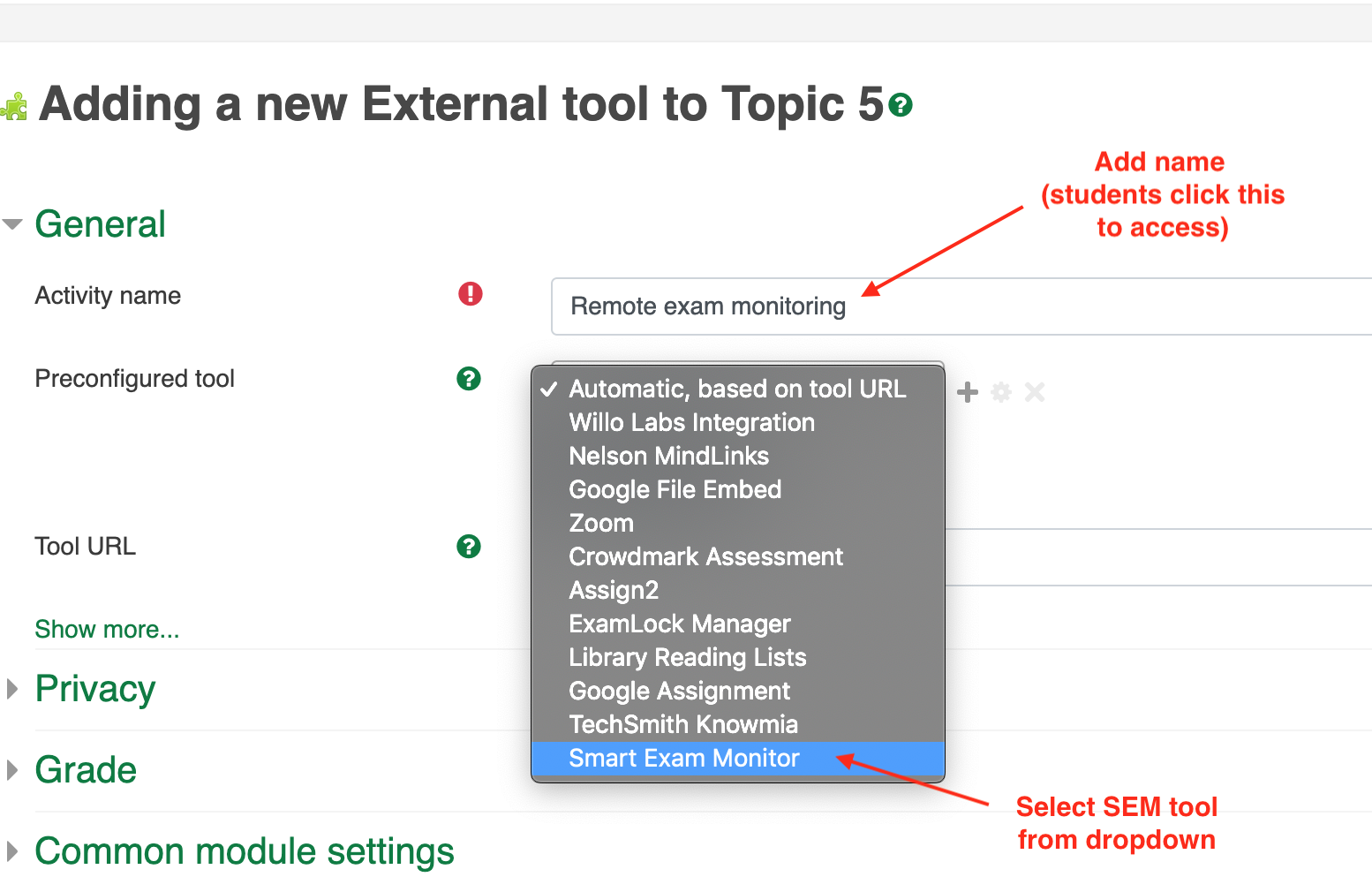 Instructors can add as many SEM tool links as required to a course - these can be used to organize monitoring sessions into different exams or to limit access to specific tools to certain users or groups for accommodations. Note: when adding multiple tools, instructors should only keep one SEM tool link open at the same time in their browser because a known issue will always create new sessions in the last opened tool link, even if it is being added to a different link.

Configuring Monitored Exam Sessions
Once added to their course, instructors can click the SEM tool to add and edit as many exam sessions as required.



The example below covers how to setup SEM to monitor a basic eClass quiz. Instructors using different exam delivery scenarios should also consult the specific documentation:
For the eClass base quiz scenario, instructors will need to create the quiz prior to creating a new exam session and copy both the quiz url and password as that information from the quiz is required to link it through the SEM setup -- external assessments can ignore this step.
Configuring Quiz Settings for SEM
In the quiz settings, instructors must set a password to protect the exam from unproctored access and should ensure they set a time limit to control the quiz duration. Students only receive that password once they have signed in though SEM and the start time is reached; each students quiz attempt time limit starts when they launch the exam through SEM.
Beyond that, standard protections for the quiz content can be used including fully hiding materials until close to the exam date, using access restrictions to limit release until a certain date/time, and/or setting a start and end time on the quiz that prevent access apart from that window. It is also possible to configure a quiz so that it is hidden but available to ensure that students access once the have launched their SEM session (screenshot below).
Instructors using the quiz timing options (or time-based access restrictions) in addition to a quiz time limit should be aware of 2 important notes:
1) quizzes set with a start and end date/times will automatically appear in student's calendars and the upcoming events block. This might provide students access to the exam outside of SEM so this is why it is essential to password protect the quiz (and clearly indicate the exam delivery mechanism in the quiz description.) If instructors opt not to have a quiz close time, they should ensure they toggle the SEM session 'Closed to students' at the end of the scheduled exam window to prevent late access.
2) the SEM monitoring time must be set to open at the same time as or after any start time or access restriction set on the quiz. This prevent students from being confused when clicking inaccessible links or arriving at closed quizzes. Quiz start times can even be set to prior to the SEM launch time to prevent this issue. Students will still be prevented from accessing the quiz because of the password if they access it outside and can even access SEM early and wait for the countdown timer to expire at the start time then launch their quiz.
Note: SEM can be linked with almost any assessment mechanism including google docs, the Assignment activity, as well external assessment tools. For all these other scenarios, since they do not have the same password protections as the quiz, instructors should ensure that students do not get access until the exam start time. Specifically for the assignment activity, a date restriction should be set on the assignment preventing students from accessing it prior to the start time, and for extra security you can add a second date restriction preventing them from accessing it after the the closing time. The assignment should also be hidden in the gradebook to prevent students from bypassing SEM to access the assignment. For instructions on hiding items in the gradebook please see here.
To schedule a new exam click + New Exam Session.
Note: Students will only be able to attempt a session once in SEM even if the quiz has more than one attempt allowed.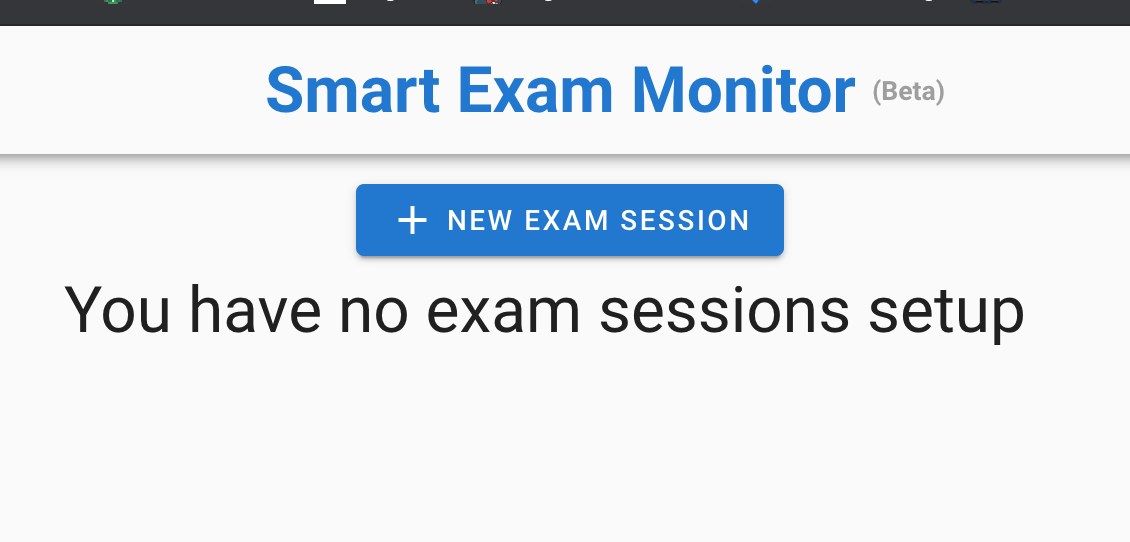 In the new session enter the Exam Title, Description, and Exam Instructions (these are required fields); for eClass quizzes, the Exam password from the settings should be added to facilitate easy exam launch. Note: the exam password must be entered exactly or copy/pasting won't work for students (ensure that no trailing spaces are added into the field.) Enter a session Date and Start Time. The start time should be when you want students to actually begin their exam - they will be able to sign in and set up SEM in advance of that time but the system will only allow them to access the quiz url and show the password at the start time you set. The Recording (Rec) Duration is also required and should be set to a wide enough window to cover the longest exam duration with additional buffer for potential issues (the actual exam duration should be controlled via the quiz time limit - see above). The time zone field should be left as the default setting.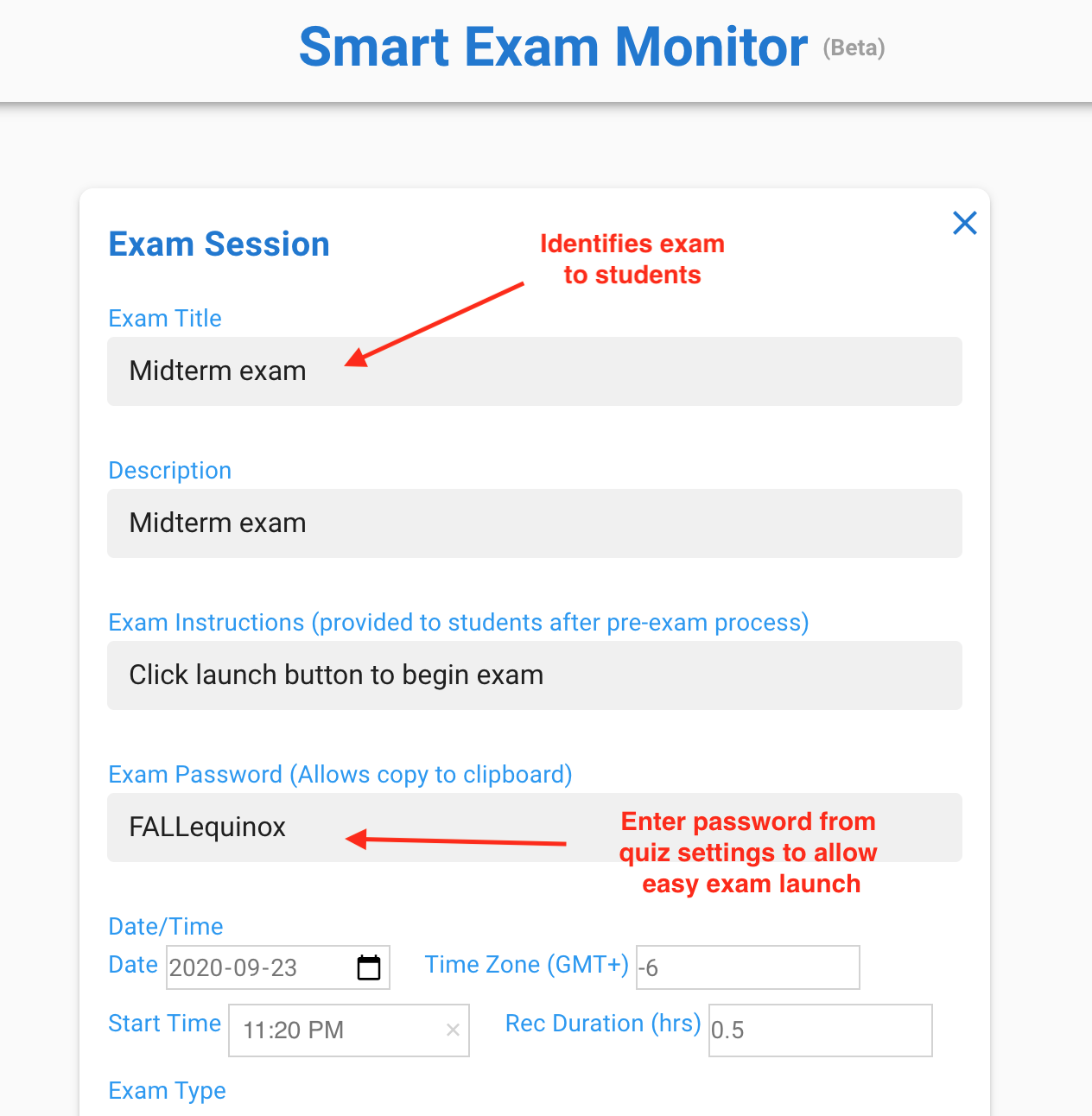 The Exam Type should be selected based on the type of assessment being delivered:
Open Book: This option can be used for any eClass quiz where students are permitted access to course materials, online textbooks, or other resources. eClass Exams should be launched directly from SEM by adding an exam URL (see image below). When selecting this option, desktop and audio monitoring are turned off by default (see below).
Closed Book (Full Screen) - recommended: This option can be used for any eClass quiz or exam and offers the highest security as it will force students into a full screen browser view. Any attempts to leave the exam browser tab will be flagged. eClass Exams should be launched directly from SEM by adding an exam URL (see image below). Note: this exam type should also be used to launch other assessment delivery methods including Crowdmark, Exam.med, and Assign2 (or a link to a static exam file).
ExamLock: This option allows SEM to monitor in addition to the additional quiz integrity measures provided by ExamLock for eClass quizzes. Major use cases would be preventing desktop screenshots during an exam and providing exam continuity in case of internet disruptions.
The monitoring options determine which of the automatic flagging profiles should be enabled:
AI Monitor: (selected by default for all exam types) This option automatically detects infractions via webcam monitoring including: use of cell phones or laptops, other people in the room, students who leave the testing area.
Monitor Audio: (off by default) This option automatically flags any sounds occurring during an attempt to prevent students from communicating with each other during attempts. Where possible, audio is automatically converted to text. This option should be turned OFF if an exam involves responding to audio or viewing multimedia.
Monitor Desktop: (selected by default) This option automatically flags any students who navigate away from the exam interface. This option should be turned OFF for open book exams. You also have the option to list allowed sites if there are specific websites students are required to visit during the exam.


The URL for the eClass quiz must be placed in the Exam URL field to automatically launch exams at the exam start time. Note: the full url including 'https://' must be included.
Below that you can add any sites that students are allowed to visit during the exam. Enter a new line for each allowed site. These sites can include the UofA library, any resources within the course like PDF files, or external sites that are required for the exam. Leave this blank if they are not allowed to visit any sites outside of the quiz.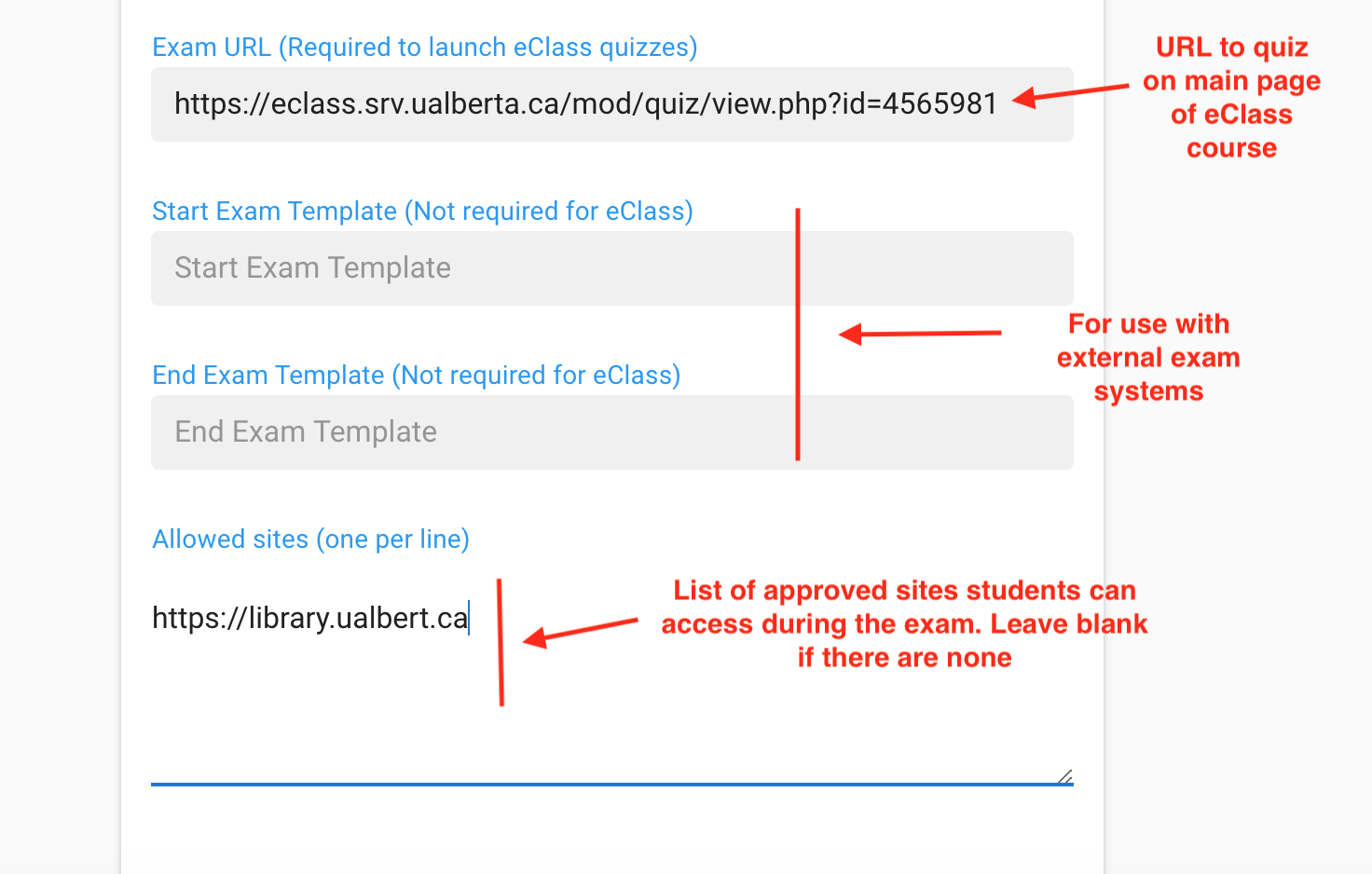 Once the exam session is saved it must be Opened to students. Students will not be able to access this exam until the start date and time that was set. Past or upcoming exam sessions can be closed for students and they will no longer appear for student access.

It is common to toggle sessions 'open to students' a few hours before the exam start time - an alternative to doing this is to prevent needing to remember to come back late is toggle it open it immediately on creation and then use a date/time access restriction to open the tool link at a particular time:

If a setup requires a number of separate SEM tool links (eg. separate tools for sub-sections of a consolidated course or a number of different AR tools), it is also possible to access restrict the entire exam section: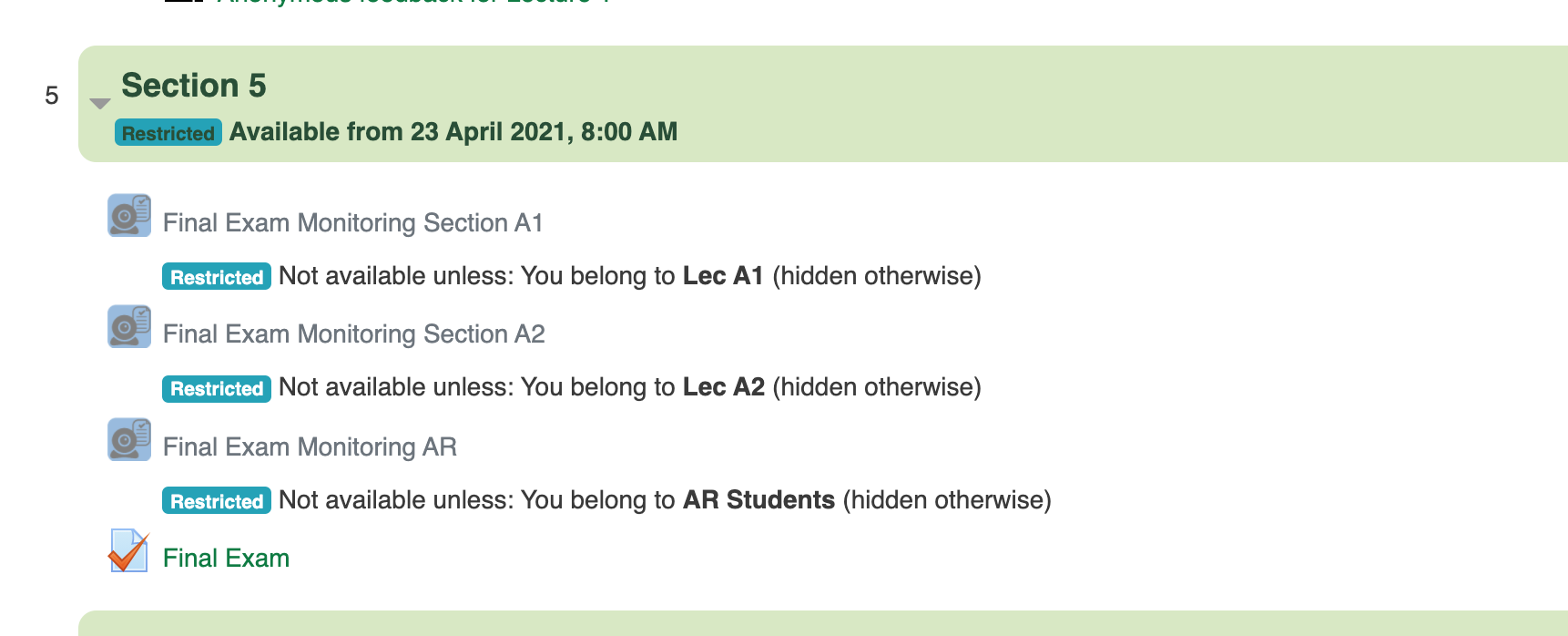 The SEM tool is now ready for students to launch their monitoring sessions:

Instructors should now review Proctoring and Reviewing SEM Exam Attempts for details on what to do during and after exam sessions.
---