How to Export Your Calendar from eClass
Last modified on 04 July 2023 01:57 PM
To export your current eClass calendar to other software (e.g., Google Calendar), you may start from a variety of locations in eClass:
If the calendar block has been added, in the blocks drawer on the right


At the bottom of your course dashboard where the calendar appears


In your profile menu


Do keep in mind that the data reflects calendar events dated the moment of export and will not automatically update future events in your other software.
When you click on the link, it will take you to the following screen where you may either import or export.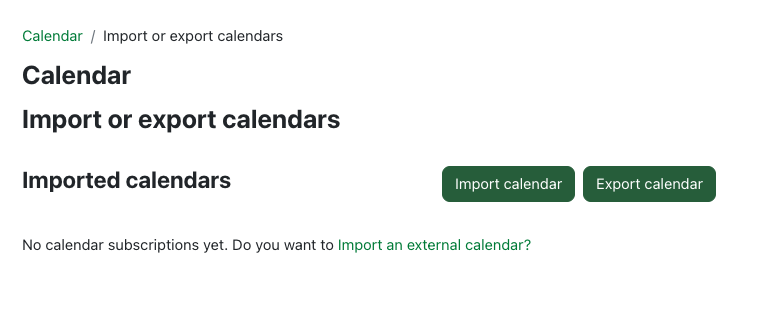 When you click Export, you get a variety of export settings to choose from.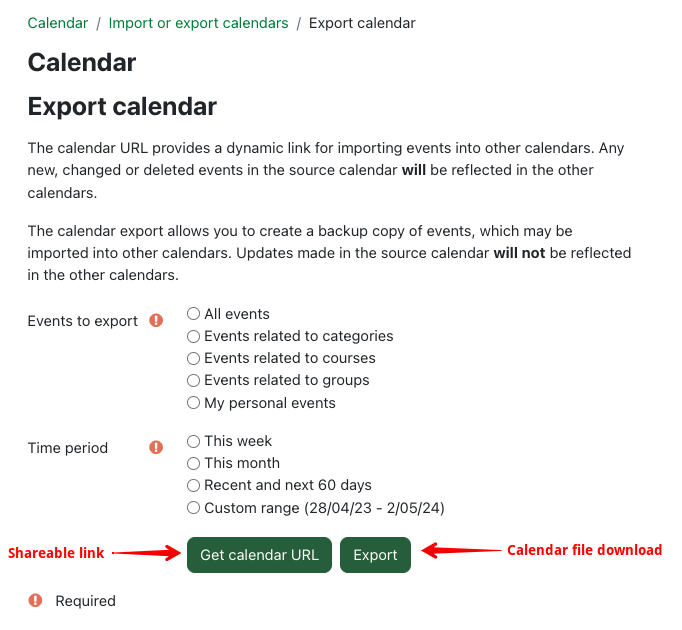 Exporting Your Calendar
Click Export calendar and then select the type of events as well as the time period that you want to include in your export.
You may choose to obtain a calendar URL (if your software supports this method) or you can simply export a file to download offline and import at another time.
Single Course Calendar Export
Unfortunately, exporting the calendar for a single course is not a feature that is currently available in eClass. In some applications such as Microsoft Outlook, the exported calendar can be filtered by category to see individual classes but a more reliable method to view a single course's calendar is on its eClass page (see issues with eClass calendar export below).
Although the calendar inside of eClass provides detailed month views for individual courses, exporting the calendar while viewing a single course's calendar will still export your entire calendar for all courses.
---
-->