ExamLock Troubleshooting During Quizzes (Instructors)
Last modified on 19 September 2023 07:11 PM
This article will cover common issues affecting ExamLock attempts and their respective workarounds or resolutions.
RECOMMENDED FIRST STEP (Always try this first):
Student to

restart

ExamLock and re-enter via the same session code

DO NOT force submit from the ExamLock Manager without first consulting with eClass Support.
---
Cause: Student has not validated the device
Solutions:
Switch to a loaner device (fastest in the interests of time).
Instructor allows attempt to be made without ExamLock (and use another means of proctoring).
---
Errors on Software Version check (see screenshot below)
Cause: Network connection issue
Solutions:
Quit ExamLock and troubleshoot internet connection
Restart device
If on campus, use UWS (AVOID U of A Guest WiFi).
Note:
Internet connectivity issues will prevent ExamLock from launching.
Attempts already in progress can withstand a loss of internet connectivity and continue to function.
---
"Error: Failed to retrieve exam data." after launching with session code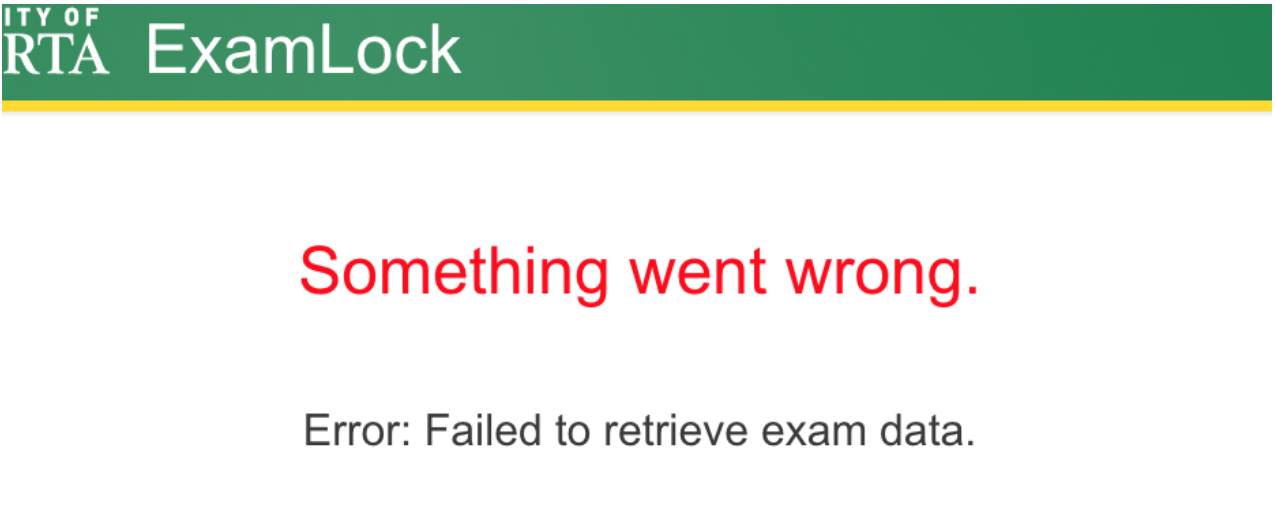 Cause: Incompatible quiz settings in eClass Quiz Activity i.e.
Quiz activity hidden
Misconfigured activity restriction settings (bad dates, times, user access logic, etc)
Inadvertent toggling of "Require students to accept academic honesty statement" in quiz setting
Solution: Resolve incompatibilities and then students to restart ExamLock attempt.
---
Solution: Restart device and ExamLock (use the same session code). Resuming the ExamLock attempt should look like the screenshot below.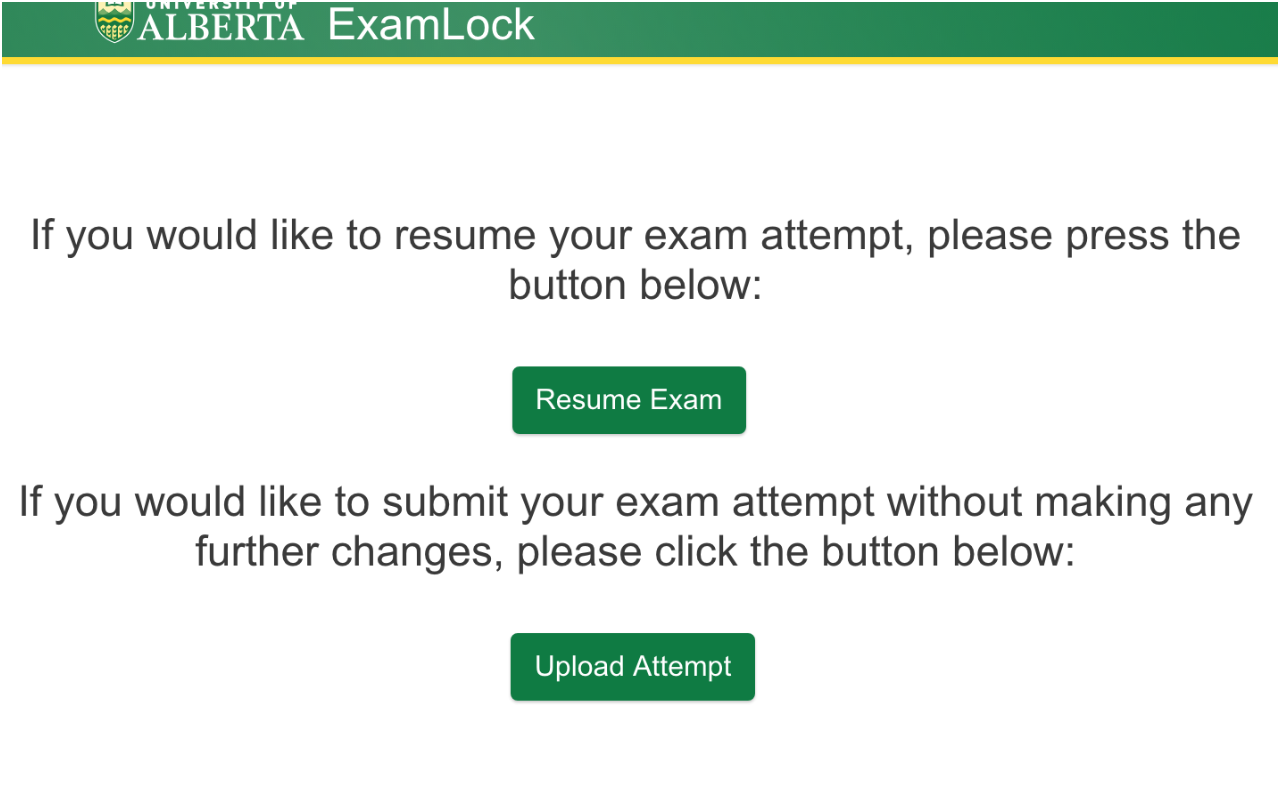 ---
Cause: Sometimes due to using ExamLock with SEM.
Solutions:
Toggle application switcher (

Windows

: Alt+Tab,

Mac

: Command+Tab) to make ExamLock the active application.
Close ExamLock and resume attempt (same session code)
Prevention tips: Students to disable system notifications.
---
Cannot resume attempt (error, or no response)
Cause: Crash during disk-write by ExamLock.
Solutions:
Instructor to notify eClass Support.
eClass Support to assist with 'Allow device switch' in ExamLock (for the student) if appropriate.
---
Cause: Network connectivity issue
Solutions:
Keep ExamLock running, troubleshoot and resolve network connection issue. Retry Upload.
Restart ExamLock (use same session code), Resume Exam or Upload Attempt.
Restart Device (use same session code). Resume Exam or Upload Attempt.
Note: Specifically, this screen disables screenlocking to allow students to troubleshoot the network connection issue. Once network connectivity has been restored, they may retry uploading again.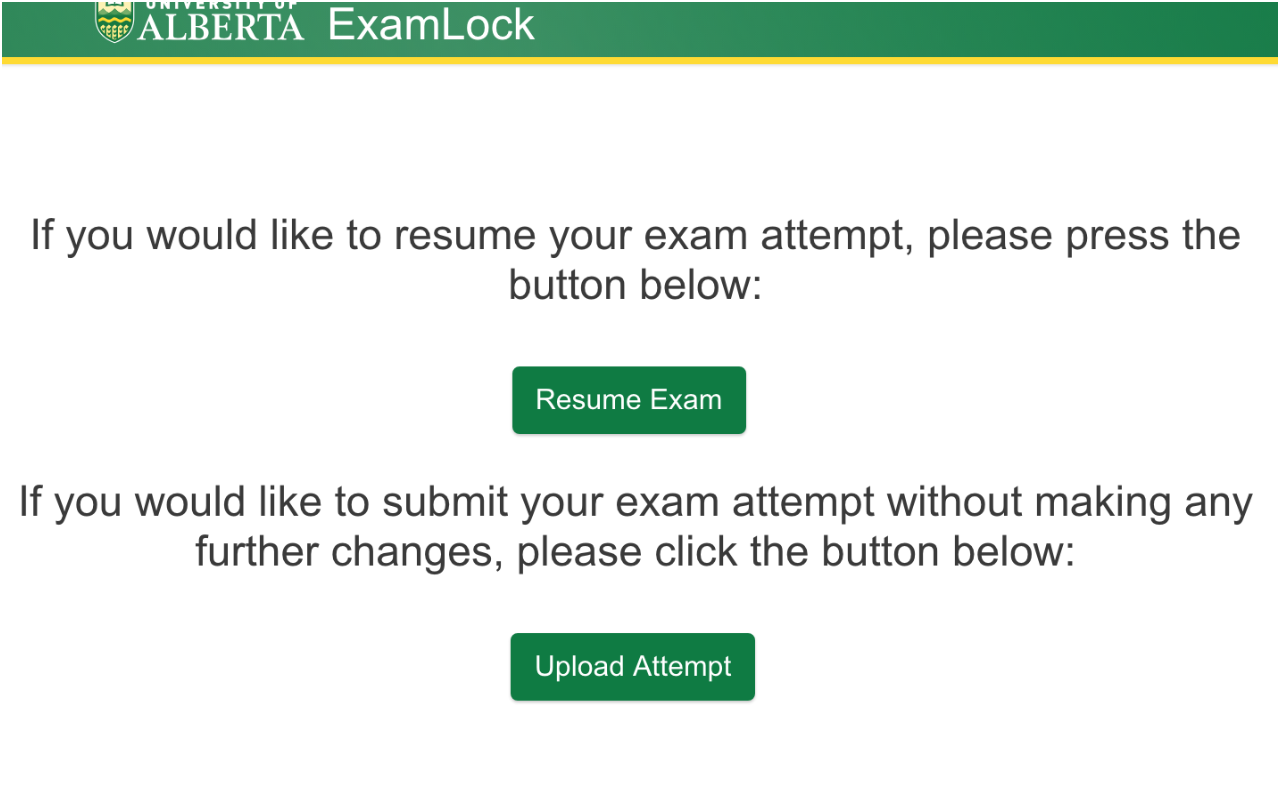 Note for Instructors: When students use Retry upload from ExamLock, their quiz attempt in the quiz activity will be left as In progress as a failsafe if they need to resume their attempt in eClass without ExamLock. Instructors can also review the attempt and Force submit if satisfied with the results. If uncertain, contact eClass Support for assistance.
---
-->