Adding H5P Interactive Activities to a Course Content Bank
Last modified on 19 September 2023 07:12 PM
Instructors can now add H5P interactive activities directly to their eClass courses.
H5P ( 
) activities are interactive learning objects based on a range of open-source templates that can now be used as gradable activities. The name is an abbreviation for HTML5 Package.
Any pre-existing H5P activities created and/or hosted on h5p.org or h5p.com may also be uploaded into a course Content bank. Existing activities or content created using the in-system H5P editor tools must then be subsequently displayed in the course through the editor or by using the H5P gradable activity.
Adding content to a Content bank:
1. Access the Content bank from the More dropdown at the top of your course page: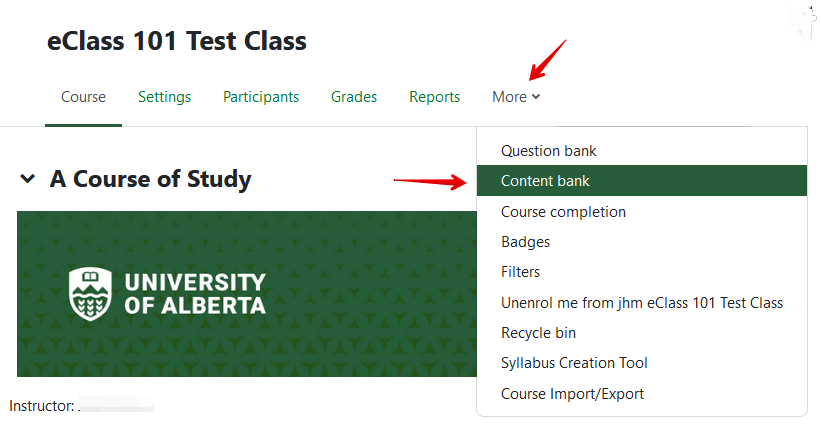 2. The Content bank lists all previously added content (or content copied forward from previous terms) and provides the option to Add or Upload H5P activities: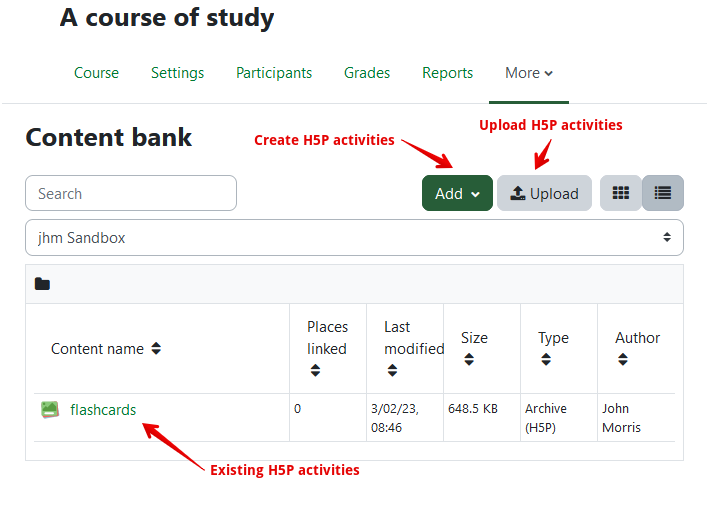 3. Add activities by clicking Add and scrolling through the list of available activities to select content: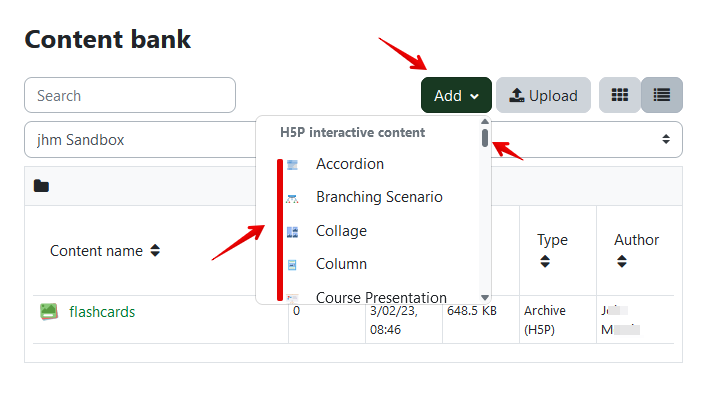 4. The available content types allow for a range of different types of interactivity from answering embedded questions to recording audio to dragging objects. Instructors can customize the templates to include their own images, videos, or presentations, and then add the specific interaction allowed by the template.
The range of content types is inter-operable and by default many of the recommended, 'fuller' activities are constructed using the 'smaller' ones as building blocks. See below for a table of what the different content templates do and to access links to specific instructional materials for the most popular types.
By default, your creations are set to 'Public' and may be searched by other H5P authors or Instructors in the same eClass course.
If you wish to hide the visibility of your content bank item,
1. Click on the item in your content bank:
2. From the More dropdown menu, choose 'Make unlisted'.
3. When you return to your content bank, you will see an indicator showing that the item is now unlisted:
Available H5P interactive content types:
H5P Content Types 

(links to H5P examples)

Description
Accordion
An accordion-style content nesting tool to display static content.
Agamotto

Creates a photo slideshow that lets users scroll through multiple photos by dragging a progress bar.

Arithmetic Quiz
A fairly basic mathematic quizzing tool that asks random arithmetic or linear algebra questions.
Audio
Tool to embed audio files stored in YouTube or other media storage services.
Audio Recorder
Inserts an audio recorder that allows users to record small snippets of audio. Users can download and playback their recordings.
Branching Scenario
A presentations delivery activity that branches based on user responses.
Chart
Simple chart display tool that can be used to create either pie or bar charts.
Collage
Creates a collage of images with the option to allow a selection of layouts and the option to zoom in or out on images.
Column
Allows users to combine 2 or more other content types into one acitvity. For example, to combine a chart and a collage into one activity.
Course Presentation
Instructors can create a slide-based presentation of their learning material with elements such as slide titles, links, pictures, audio and video clips, as well as various quiz question types seamlessly embedded right into the presentation.
Dialog Cards
Activity simulates cue card memorization by entering text and/or an image for one side of the card, and then entering text for the other side of the card. Students are then able to look at the front side of the card, answer the question in their head, and then flip over the card to see if they got it correct. Students can then manually check off whether their answer was correct or incorrect, and receive a summary at the end of the activity.
Dictation
Instructors can record or upload an audio clip, and then insert text matching what was said in the audio. Students are then able to listen to the audio, enter their answer, and receive a correct score if it matches the entered text.
Documentation Tool
Instructors can set up a structured form for student text entry including text or images, broken into different phases. Students can then export their completed report as a docx file.
Drag and Drop
Adds an activity where students can drag responses (text or images) onto pre-created drop zones on an image or background. Can be used as a part of the Question Set activity.
Drag Text
Instructors can create text-based challenges where users are asked to drag words into blanks in sentences.
Essay
Tool to allow students to input free form text with options for semi-automated feedback. May be most useful for short answer type quiz questions.
Fill in the Blanks
Constructs an activity where students can fill text answers into sentences or paragraphs with the option for multiple correct answers and hints on each blank.
Find Multiple Hotspots
Instructors can have students identify multiple regions on an image and receive score for getting them correct but there appears to be no penalty for clicking on an incorrect hotspot.
Find the Hotspot
Creates content very similar to "Find multiple hotspots" but there is only a single correct answer. Distractors can be set with appropriate feedback and students are allowed to retry as many times as they want.
Find The Words
Instructors can set up a word search by entering a set of words and then setting a range of options (range of letters to search from, word orientation, whether to show solution.)
Flashcards
Creates a set of cards containing a picture or question on one side of the card and a corresponding text on the other side. The learner is asked to type a word or expression corresponding to the picture, before turning the card over and revealing the correct answer.
Guess the Answer
Provides the ability to have students guess the corresponding text which matches an image or video. Very similar to (but a bit more basic) the flashcards content type.
Iframe Embedder
This tool allows instructors to quickly embed websites via iFrame. 
Image Hotspots
Images can be enhanced by adding hotspots or points on the image where users can click on to reveal descriptive text, pictures, or a video.
Image Juxtaposition
Enables students to compare 2 similar images by dragging one over top of the other to evaluate differences.
Image Pair
Constructs a matching question using images. Can be used as a part of the Question Set activity.
Image Sequencing
Allows instructors to create an activity where students need to re-arrange a randomized set of images into the correct order.
Image Slider
Enables instructors to upload a series of images as a slideshow.
Interactive Book
Allows instructors to create a book with the pages containing content constructed out of the other different H5P content types, from questions to image sliders or collages. 
Interactive Video
Enables quiz questions and other interactions like pop-ups or elaborating text to be overlaid onto linked YouTube and other hosted videos.
KewAr Code
Allows instructors to generate scannable QR codes of different types (events, urls, texts, etc.)
Mark the Words
Allows instructors to construct text-based games with marked words defined by some question or query and students would then have to click on the matching words. Words are marked by enclosing in asterisks to indicate correct answers. Can be used as a part of the Question Set activity.
Memory Game
Enables the creation of a memory game where learners have to flip two cards at a time and try to match the image pairs in as few turns as possible. Instructors can insert additional information to be delivered when matches are made. 
Multiple Choice
Inserts a standard multiple choice question where multiple correct answers must all be selected to score. Can be used as a part of the Question Set activity.
Personality Quiz
Allows instructors to define personality traits and then define questions where specific responses map to specific traits. At the end of the quiz, students will see which 'personality' they match the best with.
Quiz (Question Set)
Instructors can use any of the other H5P question types (multiple choice, drag and drop, fill in the blank, mark the text, drag text, true/false, essay) and collect them in sequence to create a quiz. There are options for structured and video feedback as well.
Single Choice Set
Adds a basic multiple choice quiz where each question has one answer. Can be used as a part of the Question Set activity.
Summary
Constructs a simple statement-based quiz where students are asked to choose between different options and is meant to be delivered as a formative review after viewing content.
Timeline
Allows instructors to build a presentation that is structured as an interactive timeline where each content entry is specified at a date/time and these are arranged in chronological order
True/False Question
Creates a single-question true or false activity. Can be used as a part of the Question Set activity.
Virtual Tour (360)
Enables the addition of the existing h5p overlays (questions, text elaborations, descriptions) over top of uploaded panoramic (360) images. 
---
-->