Completion Tracking - For Students
Last modified on 04 July 2023 01:50 PM
Courses with Completion Tracking display completion criteria for course items directly on the page for better visibility. A Mark as done button is used by students for items that allow manual completion tracking.
The screenshot below shows how completion items appear in a course. Multiple completion criteria are all displayed inline adjacent to the activity: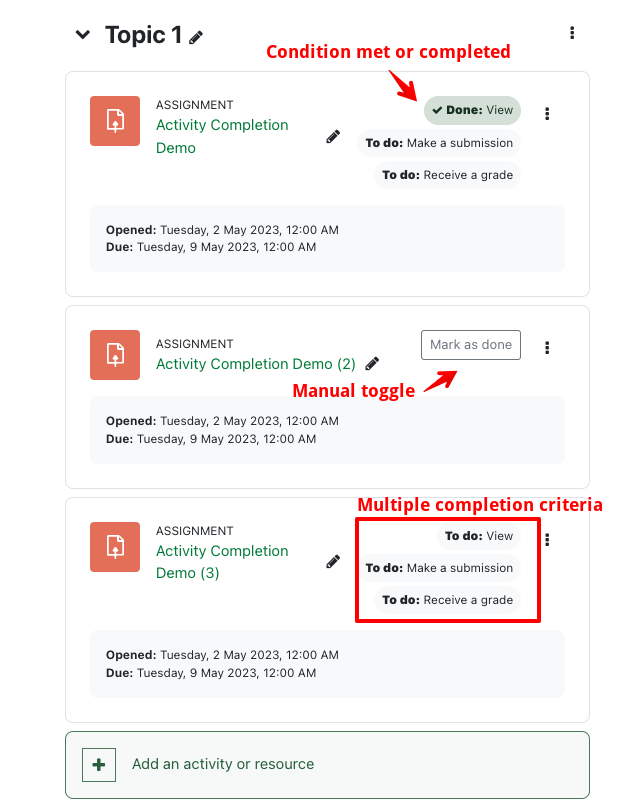 Each activity type on eClass may contain different completion options or criteria.
For example, in Activity Completion Demo (3), above, in order for the activity to be logged as completed, students must:
View
Make a submission
and Receive a grade
Completed items (or completed sub-items if multiple criteria are specified) will be shown as Done in green. (Grey-coloured conditions indicate that the condition has not been met.)
If an item is set by the instructor to allow 'Students to mark an item as complete', these will display a Mark as done button to the right of the activity or resource name. Students can then elect to click the button to mark an item done to track their own completion. Once clicked, the button will become a green Done button (which can be toggled back to Mark as done if necessary.) Students cannot mark an item as done if it contains automated completion tracking settings.
---
-->