Last modified on 05 July 2023 07:11 PM
Whenever you add an automatic grade item such as a Quiz or Assignment Activity to your course and specify a grade in its settings, a grade column will appear in the gradebook.

This article will explain how to manually add a grade item that is not tied to an Activity, for example, when you grade a Mid-term quiz outside eClass or assign a participation grade and want to use eClass to display the grades to students.
1. Go to your Grader report by clicking on the Grades tab at the top of your course page:
2. Click on the Grader report dropdown and then on Gradebook setup.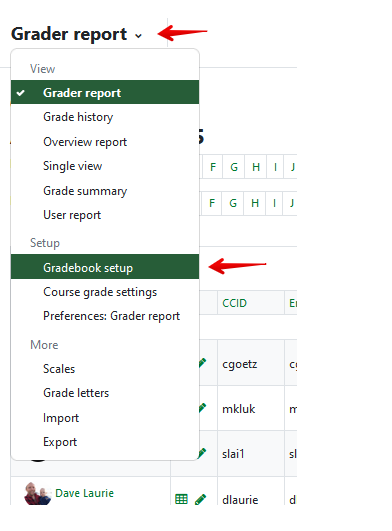 3. Click on Add grade item:
4. Enter a name and a value for your grade item. Then, click on Save changes when you are done. 
5. A new column containing your grade item will appear in your gradebook.
6. To input grades manually, activate the Edit mode toggle in the top right of the course page:

7. Enter the students' grades in the text entry boxes in the column. The 'Tab' key can be used to move to the next student.
8. When you are finished, click on Save changes at the bottom of the page.
---
-->