Zoom Meeting Security Recommendations
Article Last Updated June 2021
This article outlines recommended steps instructors should follow to ensure their online meetings are secure. The Zoom integration in eClass provides a very strong overall security mechanism but listed below are some additional steps that can be taken to prevent problems and mis-use. The use of personal Zoom accounts is not recommended. Instructors should also consult CTL's best practice recommendations for using Zoom as well as the CISO (Chief Information Security Officer) update on Zoom security.
The surest way to lock down a Zoom meeting is to require that all participants authenticate when creating a meeting under 'Meeting options' in the settings:

Note that this setting is also required to enable the additional meeting features adding watermarks to meetings and pre-assigning participants to breakout rooms.
Instructors who do not enable this option should follow the suggestions below to ensure meeting security:
1. Do not distribute your meeting URL unless it is required for external user access. The Zoom integration in eClass will automatically allow all students in your course to access the meeting directly. Sharing the meeting URL allows anyone with the link to join and can introduce security issues. You should also alert your students to the negative consequences of sharing the meeting url.
2. Protect meetings where external access is required by requiring a password.
3. Do not use your Personal Meeting Room for public events since the url doesn't change and once shared will always be accessible to whomever has the url.
4. Create single meetings instead of recurring meetings as these have fixed urls as well. Once the url has been shared to external participants, they can always access the meeting. If a recurring meeting has had security issues, create new meetings for future course events.
5. Be familiar with the meeting level security panel settings and the available options: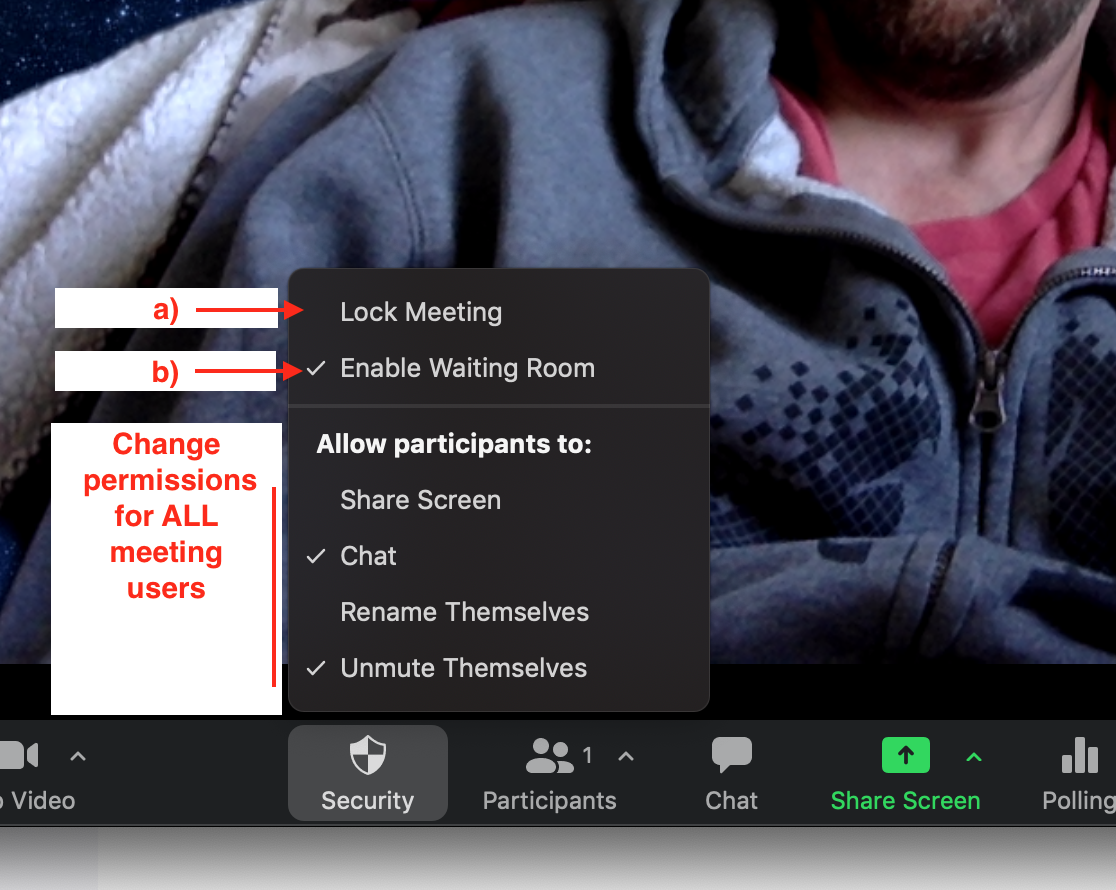 a) Lock meetings once all required participants have entered.
b) Enable (or disable) a Waiting room to identify participants before they join.
c) Use the global control options for meeting settings for all users.
6. Be familiar with the mechanisms for controlling participant actions and dealing with specific problem users. Clicking Manage Participants at the bottom center of the Zoom control panel provides access to the list of participants:

The participants list appears along the right-hand edge of the meeting window: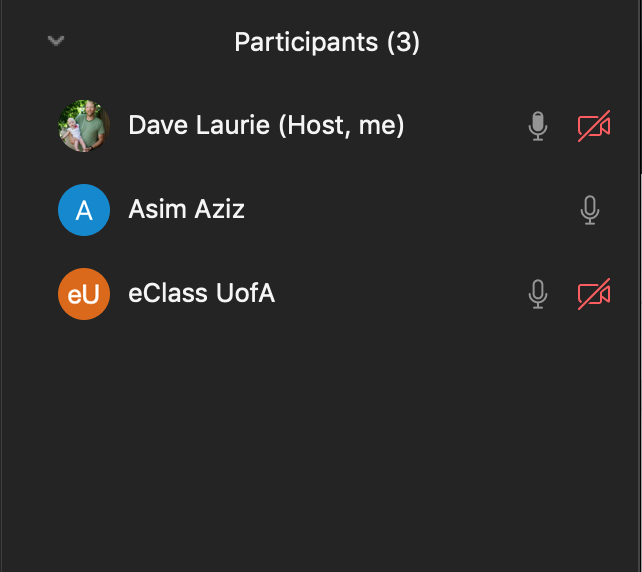 Instructors can hover over individual participants to perform specific functions:
- Mute audio: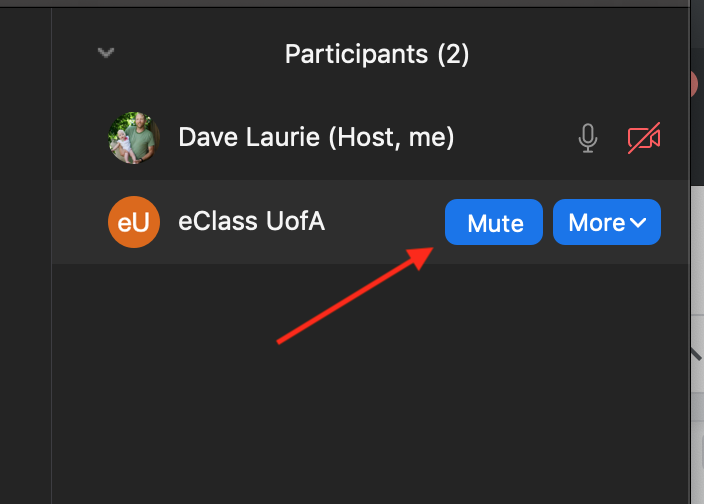 - Disable video: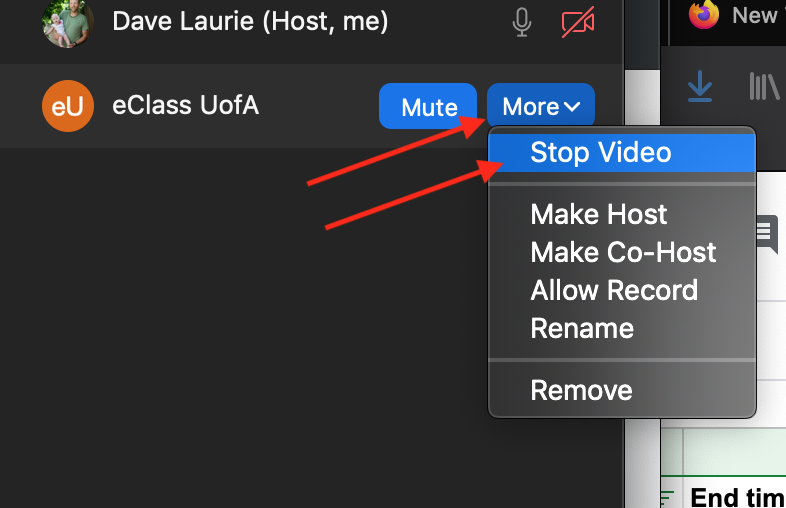 - Remove users from the meeting: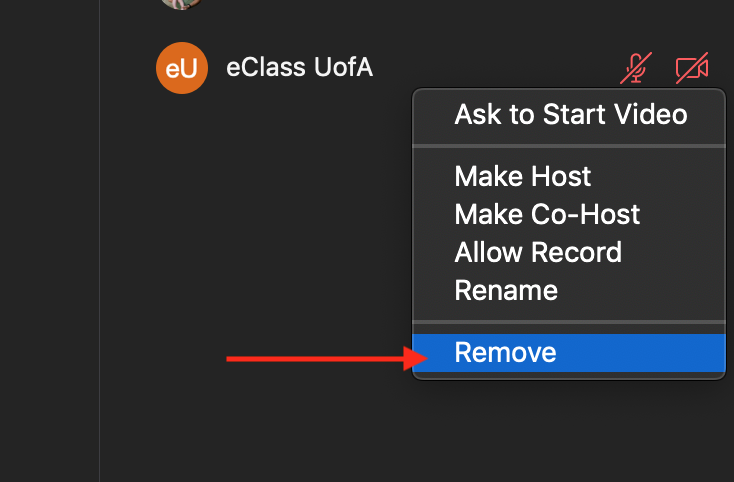 7. When screen sharing, click More to turn off annotation during screen sharing (if this is not a necessary function):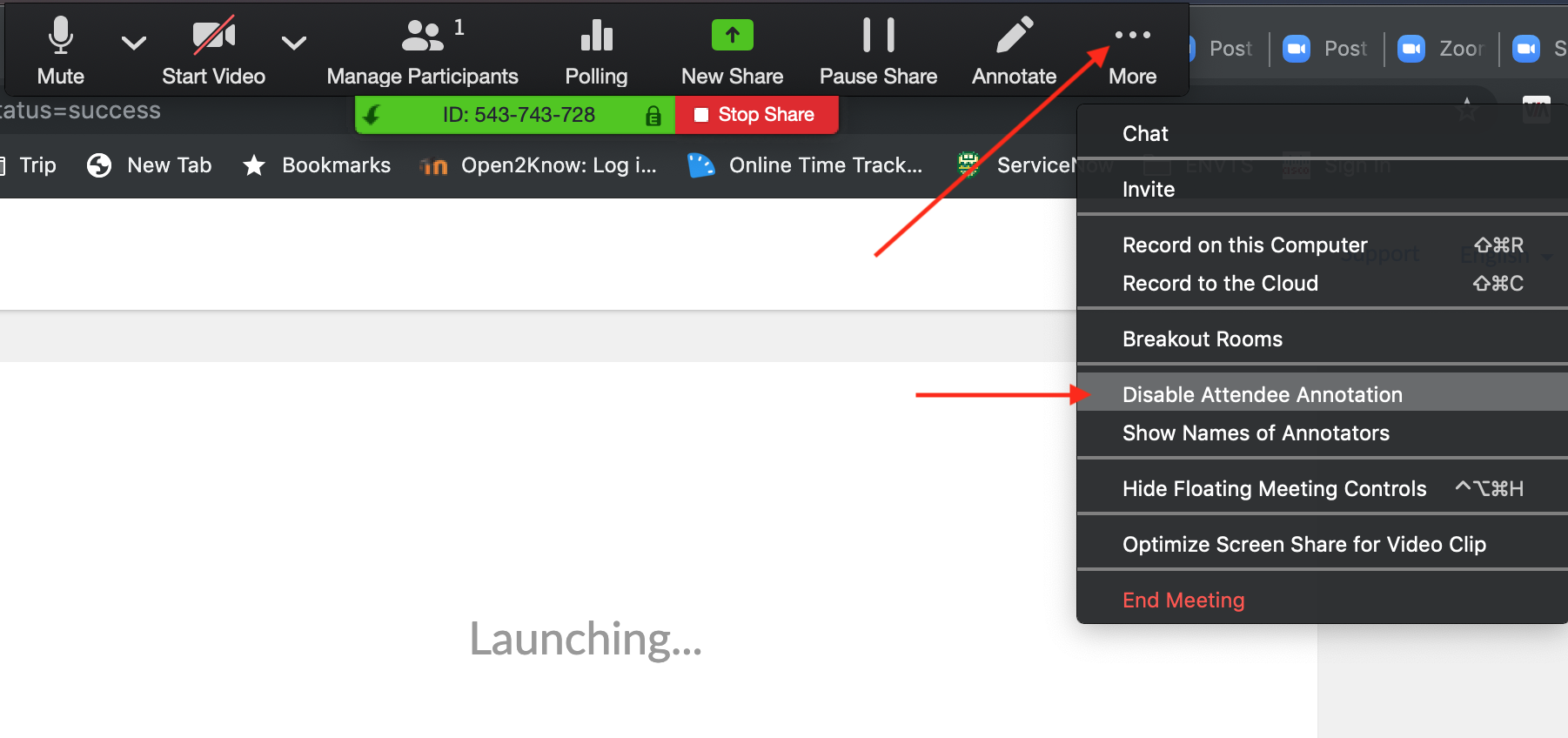 ---