Adding Questions and Editing Quizzes
Article Last Updated August 2021
This article explains how to add quiz questions to an existing quiz on eClass. If you have not yet added a quiz, please see Adding Quizzes.
After setting up your quiz, you will automatically be brought to the Edit quiz page.
If no questions have been added to your quiz, you will be presented with a button to Edit the quiz:
Later, once questions have already been added, to edit an existing quiz, click on the gear icon and then on Edit quiz to open the editing interface. From this interface you can add, remove, or modify questions.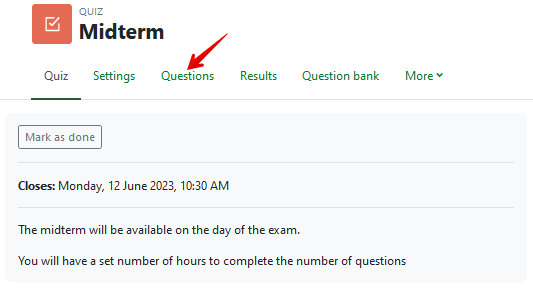 Please note that once one or more students have attempted the quiz, you will no longer have the option to add or remove questions to ensure a consistent experience for all students taking the quiz. If necessary, it is possible to give a question a weight of zero or allow more than one answer once a quiz is complete if a question has more than one correct answer or is determined to be unfair. For more information on making changes to quizzes once attempts have already been made, see Editing and Regrading existing Quiz Attempts.
Adding questions
To begin adding a question to your quiz click on Add.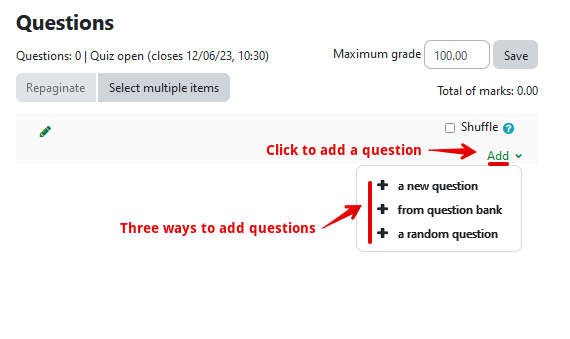 There are 3 methods of adding questions: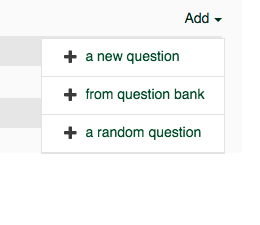 Add 'a new question'

With this option, you can build a new question based off of a wide selection of quiz question types.

Add 'from question bank'

If you only want to add one question to your quiz, you can select the + icon to the left of your chosen question to add it. You may even filter questions by specific tags. Multiple questions can be added by selecting the checkboxes for the desired questions and clicking on the 'Add selected questions to the quiz' button. You can display and select questions from different categories by using the category selection dropdown menu at the top of the screen.

Important: Editing any part of a question that was added from a question bank will apply the change to the question anywhere it appears in your course. If this question has been used in a previous exam, create a new question instead of editing the existing one.
If you have duplicated a prior quiz, delete the question and create a new version of it instead of editing it to avoid this issue.



Add 'a random question'

To add random questions, first select the category containing your set of questions to be used. Then choose the number of questions from this category that you would like each student to answer. You may even filter questions by specific tags. Click Add random question when done.

For example, when 2 random questions are selected (above), 2 new questions are added to the quiz editing overview (below).

For random questions, each student could be asked to answer any one of the questions in the selected category. Generally, having more questions in the category used for random questions is better.
Adding Pages and Headings
It is our standard recommendation that only one question is put on each page because then changes are saved whenever a student navigates between pages - this limits data loss in the event of an internet connection interruption, power failure, etc.
That said, for questions that need to be grouped together (for example with a single description question), page breaks can be manually added and removed using the icons to the left of the questions.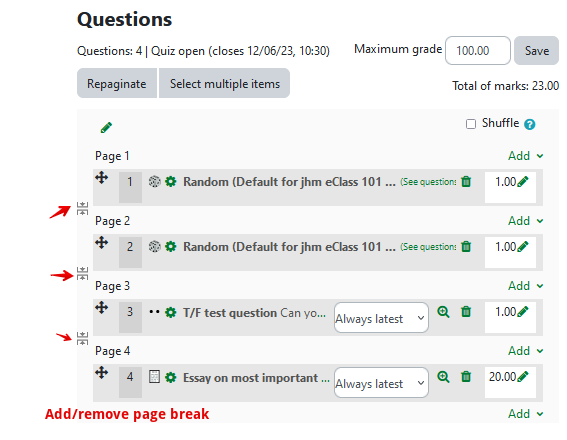 Quiz pages can have headings added to them to provide contextual information about the questions on the page. Headings can be added by clicking the pencil icon near the top left, above the page number. Headings for inserted pages must be added from the 'Add' dropdown (which only appears between pages where no heading exists):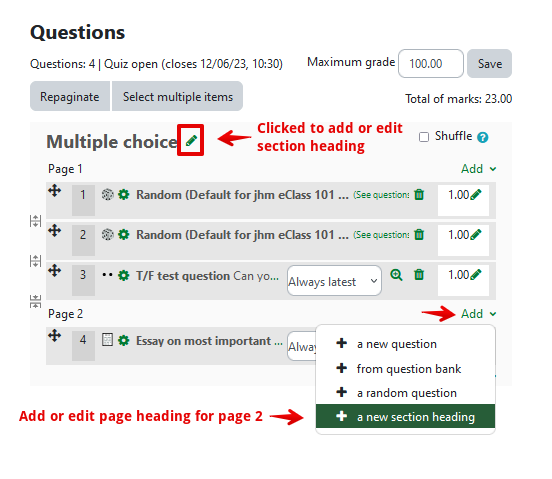 These sections can be named and are visible from the instructor and student perspectives:
Repaginating
The Repaginate button can be used to re-organize the quiz with a set number of questions per page. This can be helpful after adding or reordering questions to restore your intended layout.
Note: it is also possible to use the quiz settings page to display quizzes one question per page - in the 'Layout' section of settings, set New page to 'Every question'. This will force the quiz to repaginate at that time.
Managing Existing Questions

Existing questions can be edited and updated using the displayed icons. A brief description of the function of each of these icons is included below:
Move: Questions can be reordered either by clicking the Move icon or by drag-and-drop.
Edit: Question text, answers, and feedback can be modified.
Preview: Try a question from the student perspective.
Delete: Remove the question from the quiz.
Edit Maximum Mark: The maximum mark for each question can be modified to weight questions differently. Start by selecting the pencil icon indicated in the screenshot above. After entering your desired value, save the new Maximum Mark by hitting 'Enter' on the keyboard. To cancel editing of the value, press the 'Escape' key.
Change Maximum Grade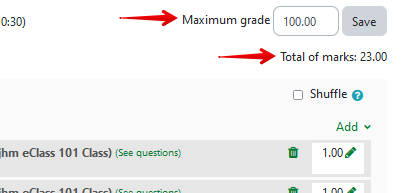 The 'Total of marks' indicates the maximum amount of marks a student can get in the quiz. The Maximum grade indicates what the quiz will be scored out of in the gradebook and can be adjusted to meet the needs of your course. Student grades are automatically scaled for display in the gradebook (e.g. in the screenshot above, 3/6 on the quiz would translate to 50/100 in the gradebook). If you do not want a quiz to appear in the gradebook at all, you can set the Maximum grade to 0.
Shuffling of questions can be setup directly from the Edit quiz page.
Shuffling can be set independently for each section of a quiz. This allows for shuffling of some questions while maintaining the order of any questions which should appear in a specific sequence.
---