Security Features for Delivering eClass Quizzes
Last modified on 25 November 2022 08:59 AM
Security features for online exams are important to ensure quiz integrity. eClass offers a range of features that provide varying levels of security which meet different needs. Most of the features listed below can be used in combination. In addition to these options, any high-stakes summative testing scenarios (midterms and finals) should also include some form of proctoring, especially in campus labs.
This option enables instructors to have password protected quizzes. In the 'Extra Restrictions on attempts' section of the quiz, in Require password select the pencil icon (Edit password) and enter the quiz password.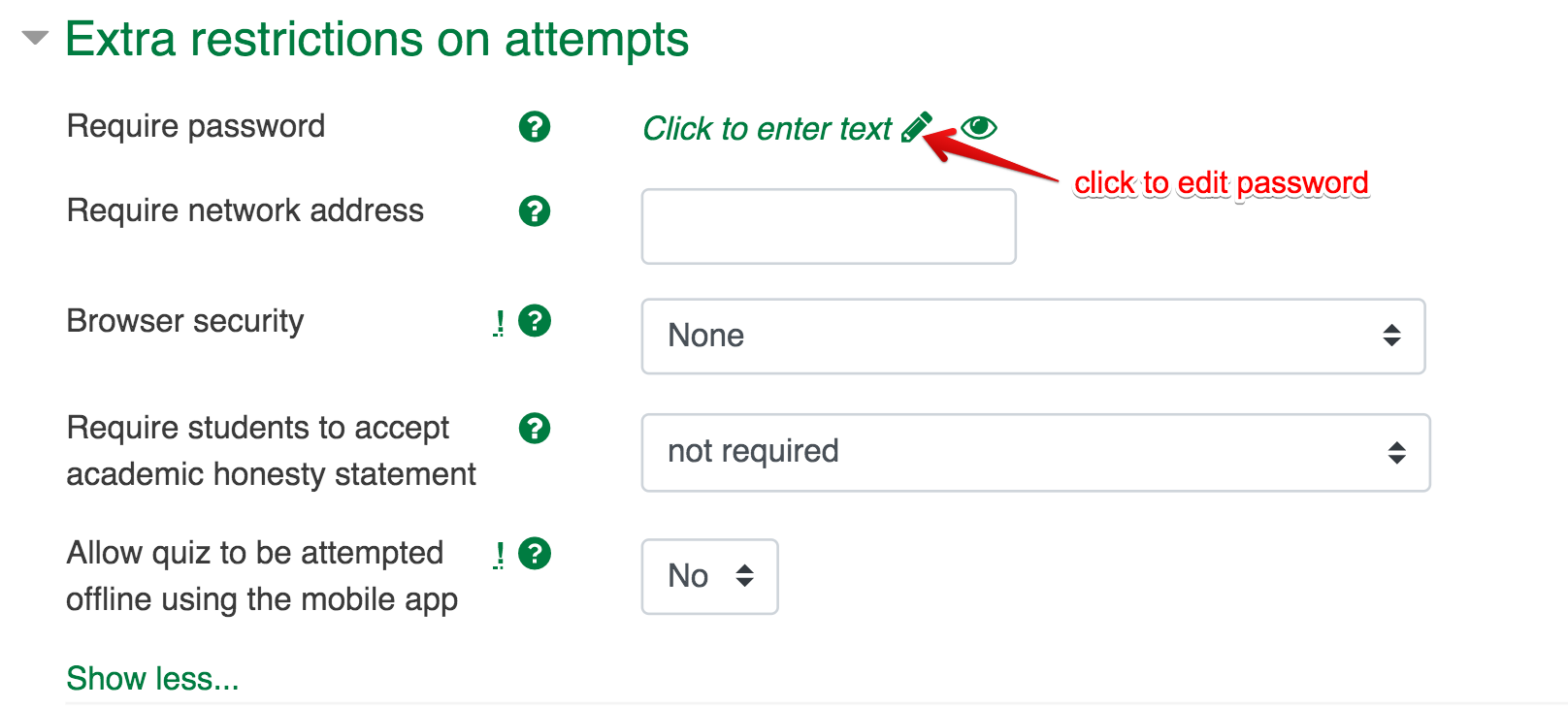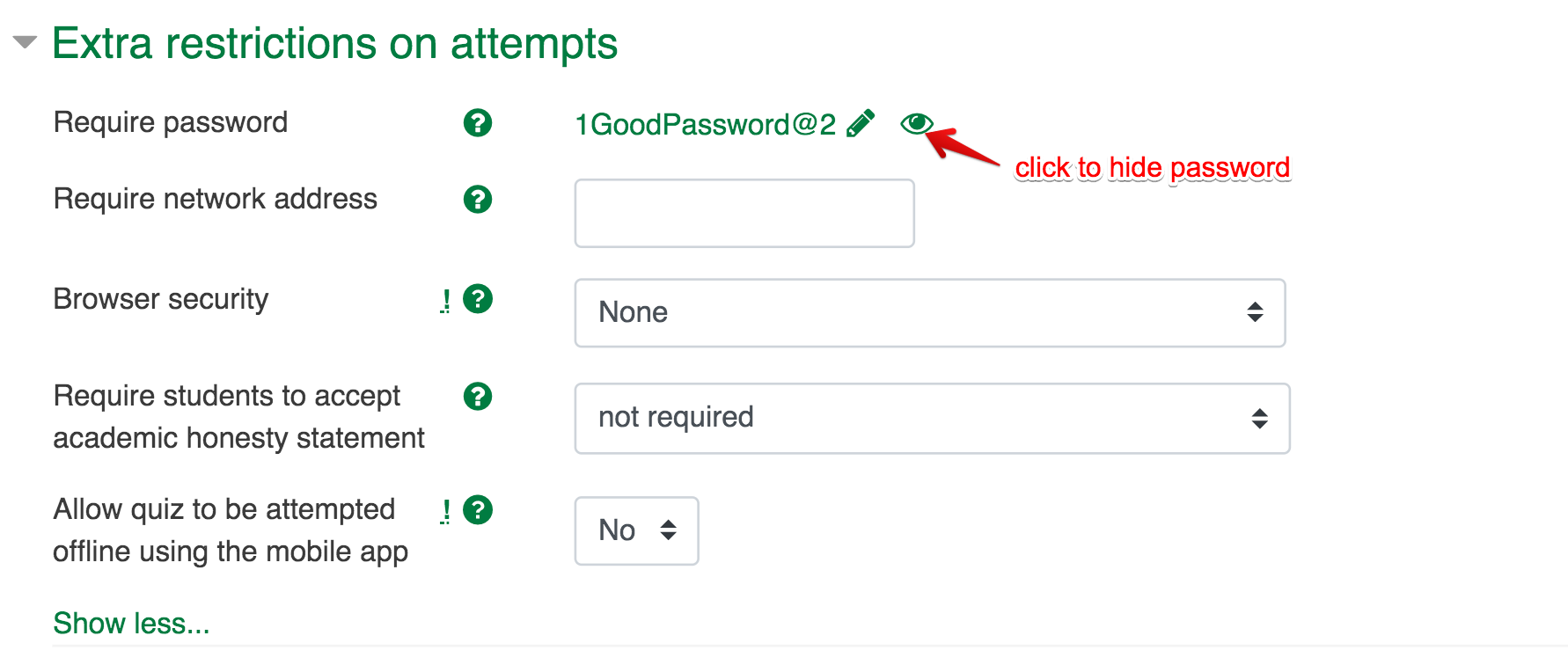 By default, the password is visible on the quiz settings page. Clicking on the eye icon will mask/hide the password, and clicking on it again will reveal the password.
Instructors will need to provide students with the quiz password, as students must enter the same password to be able to make an attempt on the quiz. 
This option requires that every student taking a quiz checks off a statement confirming the University of Alberta's academic integrity standards. This setting is enabled in the 'Extra Restrictions on attempts' section of the quiz settings by setting Require students to accept academic honesty statement to 'Must be acknowledged':
When presented to students, the statement looks like this:
The required check serves as a visible reminder to students that quiz security must be respected and violations will be addressed. 
Shuffling Questions and Answer Order

Randomizing the order of questions and answers are common mechanisms to prevent students from sharing their work.
At the simplest level, it is possible to randomize the order of the possible answers. This is only possible for question types where multiple answers are possible like multiple choice or matching. To do this:
First at the quiz level, in the 'Question behaviour' section of settings, Shuffle within questions should be set to Yes:




Then, within each individual question where shuffled answers are required, the Shuffle the choices box should be checked:




Note: the question-level shuffle option is checked by default when constructing multiple choice questions so all that should normally be required is to enable the course-level setting. The question-level setting should be unchecked where answers need to be in a specific order, for example where the last answer choice is "All of the above."
Shuffling the overall question order can be accomplished by checking Shuffle box at the top of the 'Edit quiz' page. This option is also available for any sub-sections of a quiz:
Both of these mechanisms ensure that every student receives all the same questions which may be necessary for some scenarios.
Randomizing Question Selection
It is also possible to deliver each student a quiz containing random questions derived from a broader set of questions. This functionality requires that questions have already been constructed and grouped into categories in the course questions bank (see Using the Question Bank.)
To add random questions, access the 'Edit quiz' page and select Add > a random question:
In the dialog that opens, select the question bank category containing the wider question set and then specify how many questions from within the category each student should receive:
The resulting 'edit quiz' view will show a placeholder slot for each random question added identified by a dice icon and containing a link to view all the available questions within the category:
Note that using this method does not guarantee that every student will receive the same questions.
For higher stakes exams, especially in large enrollment classes where not all students can complete the quiz at the same time, it is possible to limit access to the quiz in 'Extra restrictions on attempts':
Password: Entering a password can be used to restrict access by posting the code on the wall of an exam room so that only students present in that location can launch the quiz.
IP Address Restriction: If available, the IP address or a range of IP addresses for a computer or a lab room full of computers can be entered to restrict the quiz. Students accessing from any different IP will not be allowed to attempt the quiz. Please note: The changes to campus lab computer infrastructure have changed the existing IP addresses and have changed this functionality. For more information, please contact IST eClass support.
It is possible to limit the interface students use to access a quiz by removing the browser toolbar and many of the regular in-system eClass navigation tools (breadcrumbs, activity links, and header icons). This can be configured by selecting Show more... under 'Extra restrictions on attempts' and then setting Browser security to 'Full screen pop-up with some javascript security:
Doing this launches the quiz in a new browser tab that covers the full screen and removes all the regular eClass navigation elements from the quiz as well as any browser toolbars and navigation features:
The browser tab can be re-sized and function normally but starting all attempts at full screen can assist proctors. This feature can be an effective way of ensuring that students cannot easily navigate away from the quiz attempt. Note that the absence of browser navigation features would impact access to and from external websites where that is required as a part of a quiz.
Quizzes can also be configured to be delivered using only ExamLock, a separate application that further limits students during their attempts. This tool forces students to stay in the quiz until they submit it and monitors their machine capturing evidence of a range of activities including attempting to exit the exam, using printing utilities or screen capture programs, and more. For more information see Using ExamLock to Promote Integrity.
---
-->