Submitting Video Presentations Using Stream2 (Students)
Last modified on 10 November 2022 11:44 AM
If your instructor has asked you to submit a video presentation, you can use the Stream2 media tool embedded in eClass to record and upload a video. The tool can also be used to upload a video you made using another program. Depending on the assignment, your video may be public to the rest of the class or private between you and your instructor/TA. 
Submitting a video presentation to a Forum or Assignment
Find the forum or assignment that is specifically for your video presentation and click the link to access it. Once you are within the activity:
If it is a Forum you will need to click on the big green button at the top "Add a new discussion topic" to access the standard eClass text entry box.
If it is an Assignment you will need to scroll to the bottom and click on "Add Submission" to access the standard eClass text entry box.
In the icon toolbar directly above the text box, click on the "Embed Stream2 Media" button at the far right.
Note: Using Incognito/Private mode is not recommended when using Stream2.
Forum View: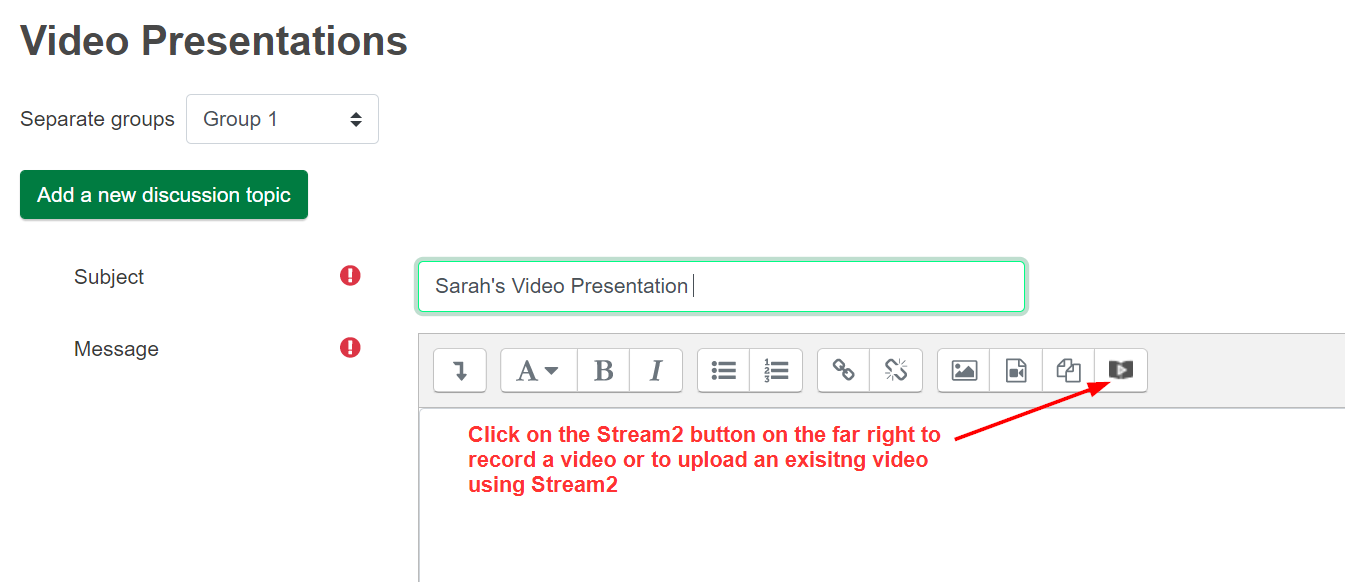 After you have clicked on this a pop-up window will open which contains the option to record your video (left) or upload an already recorded video (right):

Note: If the Stream2 overlay does not appear or takes a long time to load please make sure you disable any pop-up blockers and are not using "Incognito mode". You may also need to try a different browser if the problem persists. 
Recording a video using Stream2:
If you are using Stream2 to record your video directly you will need to click on the record tab on the left, then after that click on the "New recording" button in the top right:
An overlay will appear where you will need to name your video and add a description and then click "save":

Once you have saved this you can click on the circle to the right to start recording:

The next page will prompt you to select if the video will be of your audio and your camera, or your audio and your screen: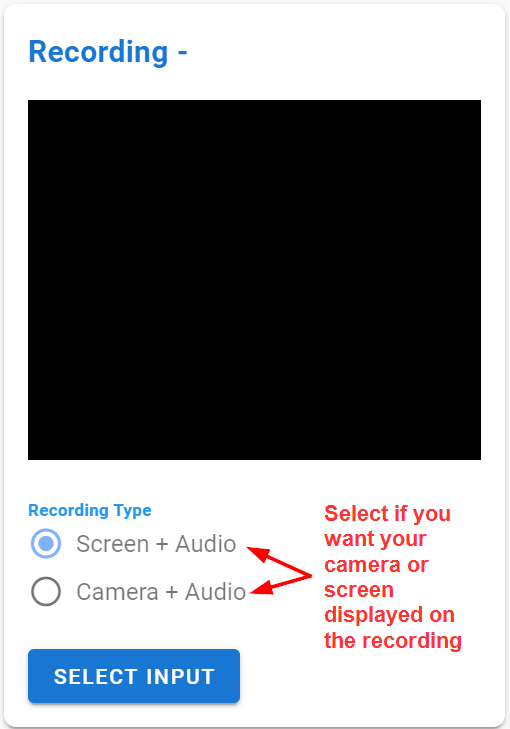 Note: Prior to recording you will want to have your presentation ready to go so that when you click record you can just minimize that pop-up and immediately launch and deliver your presentation. 
Once you have selected the input, you need to provide permission for Stream2 to access your camera or record your screen. If you have selected screen share, you will need to choose whether to record your whole screen, an application (such as PowerPoint), or just a tab in your browser (eg. presentations created using online programs such as google slides):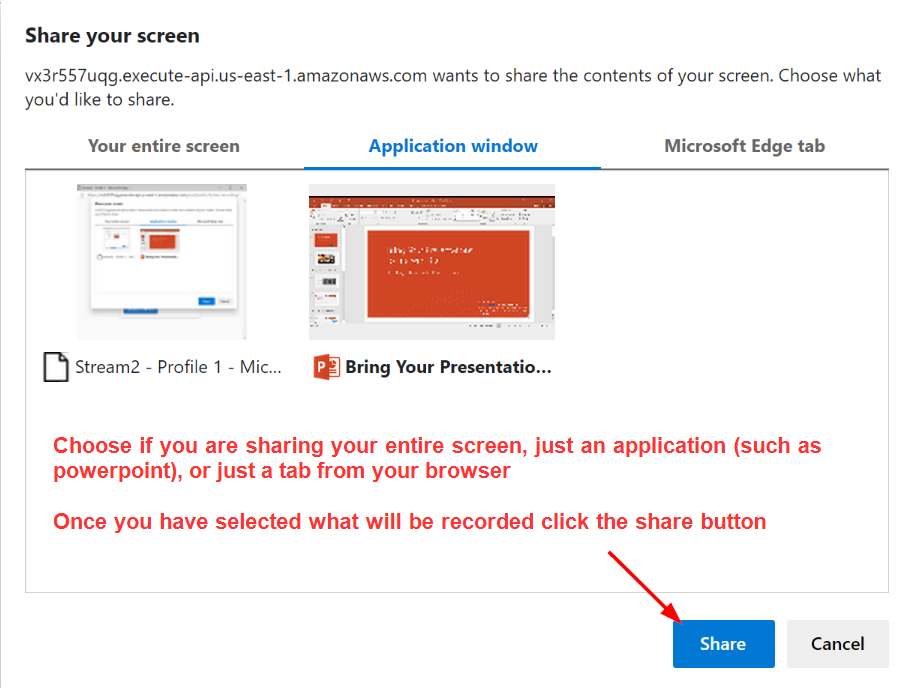 Note: If you have minimized the application it may not show up on your list of applications to choose from - to avoid this have it open on your screen instead of minimized.  
After clicking the share button it will navigate you away from the small pop-up, but you still need to go to the little pop-up and select "record" to actually start recording. Important: if you do not actually click the record button after selecting your input source, nothing will be saved. Once you have clicked record, you can just navigate away from that browser window and launch your presentation.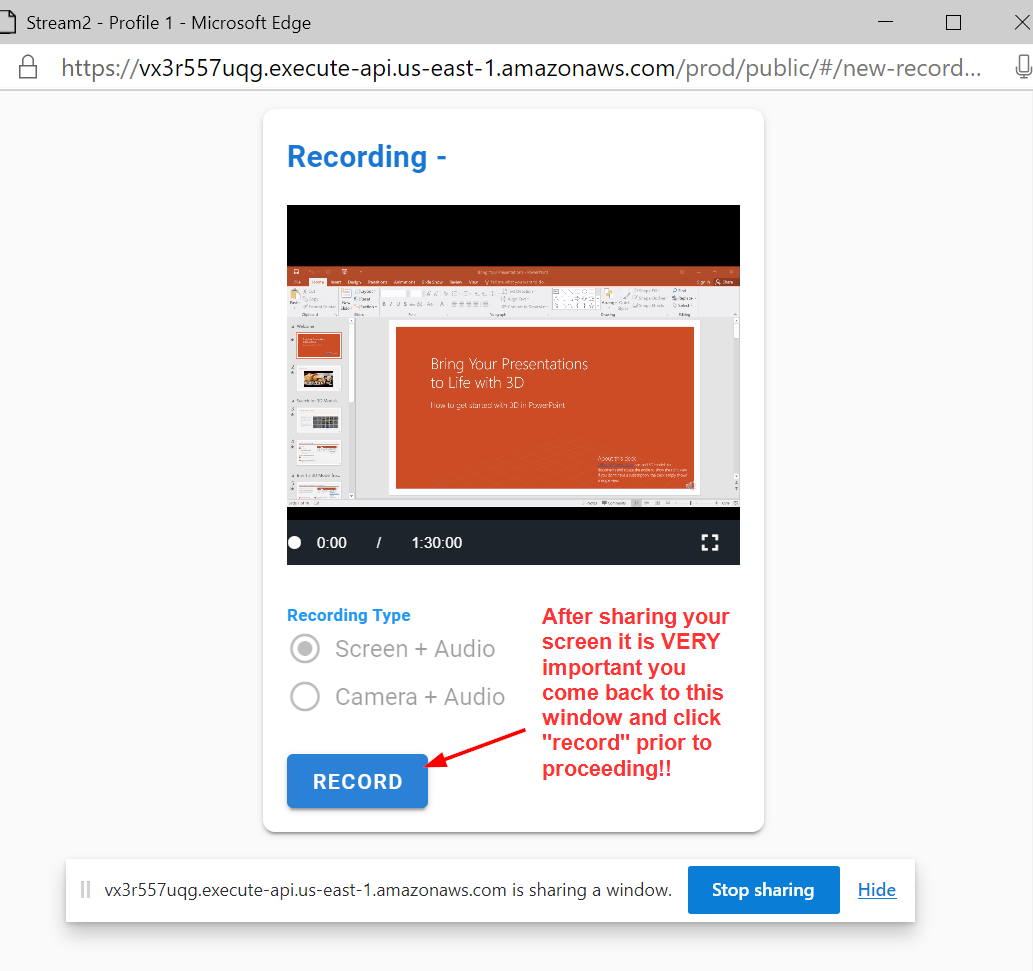 Once you are done recording your presentation go back to the small pop-up screen and click "stop" - the video will begin uploading and the pop-up screen will close once the upload is complete: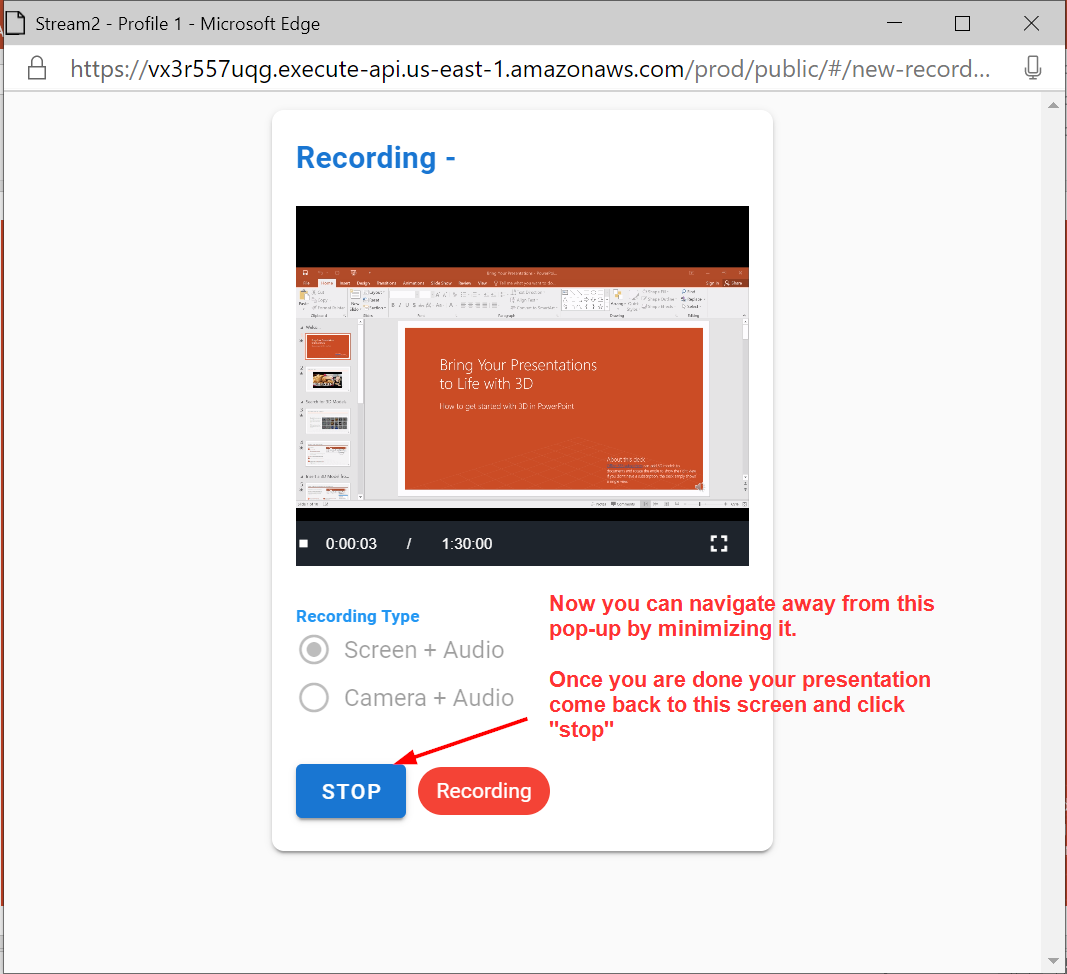 Once you click stop, the recording will upload and you should see a progress bar of this occurring. If you have recorded a longer video, this may take some time and you should ensure you do not close the window or disconnect from the internet during that time: 
The main Stream2 overlay should now say "waiting for transcoder" while the video processes. Depending on the length of the video this may take several minutes or may be done quickly. 
Once this is done you can preview the video if you like by clicking the play icon in the thumbnail. When you are ready to include the video in your submission click on the 3 dots on the right side of the video and you can choose 3 options: Edit, Delete, and Embed:
If you need to change the name or description of the video select "edit".
If you are satisfied with your video and want to submit it click on the "embed" option

When you click the embed button you will get an overlay that allows you to select "Copy Moodle Embed Code". Clicking the button should copy the required video information to your clipboard and close the overlay (but you may have to click it twice to get the pop-up to disappear.)
Now you can navigate back to the assignment submission or forum post and go to the text box and click cmd+v or ctrl+v to paste the video embed information: 

Then click "save changes" in the assignment or in the forum click "Post to forum". You should now be able to see the video in your forum post or submission.
Uploading an Existing Video Using Stream2
To upload an existing video that you have already creating using a different recording tool you will want to click on the "Upload new video" button. 
Another pop-up window will open where you can add a name and description to the video. You can also choose between having the video be SD or HD, and if you want captions generated. 
Once you have named it and added a description, you will want to either drag and drop the video into the upload box; or click "browse" to search for and select the video from your device.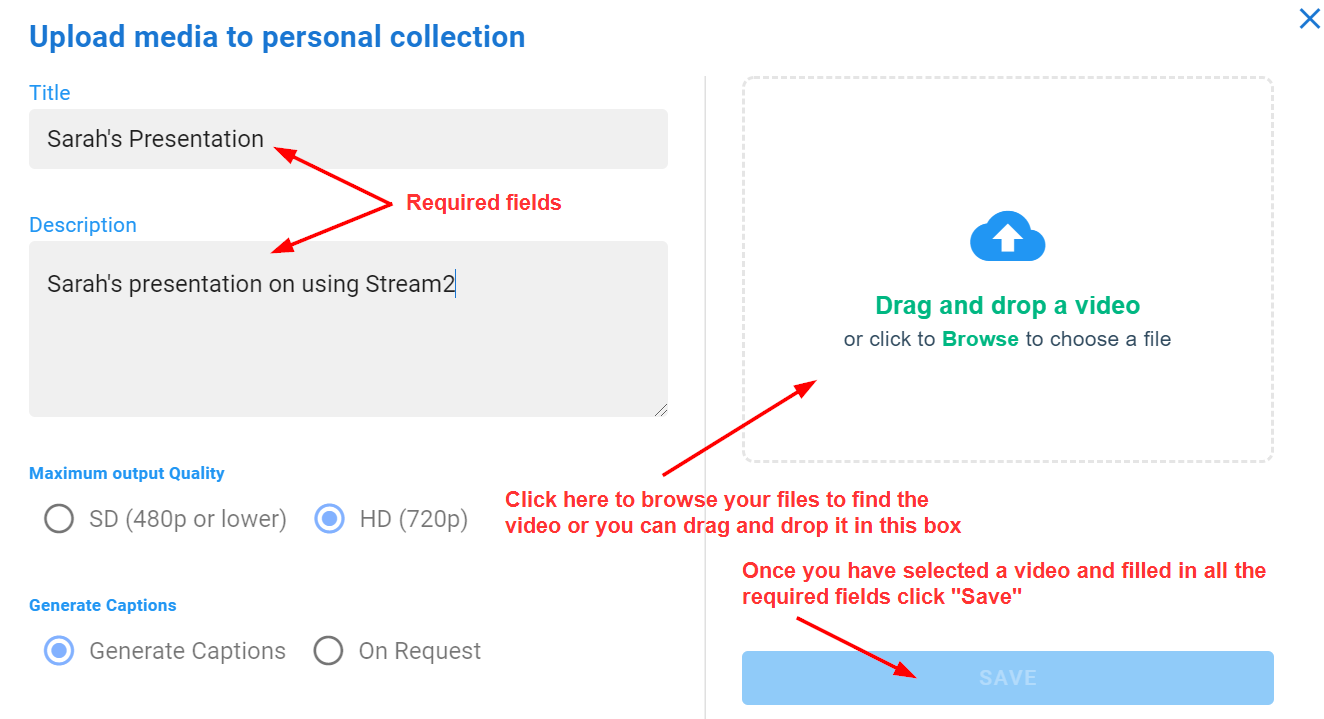 The video will then upload and once it is uploaded it will continue to process in the "transcoding" phase, which can take upwards of 5-10 minutes depending on the length of the video. Once this is done you will see a preview of your video and be able to embed it following the same process as if you had recorded it directly in Stream2 (see above for screenshots and instructions for doing this.) 
---
-->